Whilst in Auckland, New Zealand, I wished to try slide film! Following on from my time in Malaysia and Singapore (in which I shot all of my pictures on film) I have really caught the film bug!
Fujichrome Provia 100F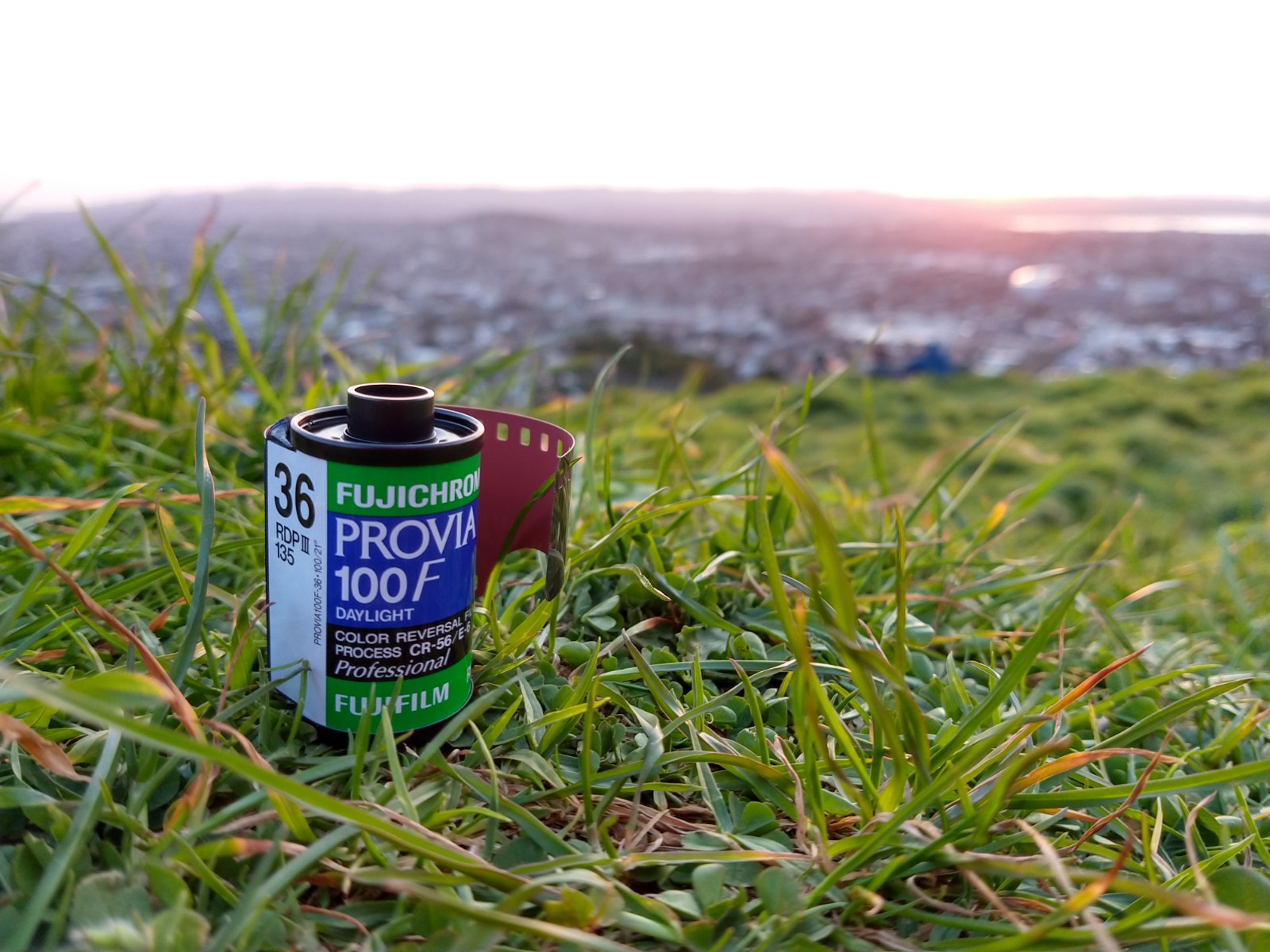 The roll of film before use, at Mount Eden.
The film used is Fuji Provia 100F: marketed as a 'professional' Fujichrome film with more 'realistic' colours than its saturated sister product 'Velvia'.
I shot a roll over the course of two days at Mount Eden, Waitematā Harbour and Waiheke Island. I was impressed with the results, which had great sharpness, clarity and colour. There were however the usual downsides of slide film such as: its lower exposure latitude, meaning that there is less room for error when exposing images; the price of the film (NZ $20 ~ £10); the price of the processing (NZ $32 ~ £16); and its increased sensitivity to light-leak issues. It has been very exciting shooting a completely new type of film, and I will certainly seek to improve my results with the next roll that I shoot! One of the main ways I will do this is by only using one lens, to reduce the light leakage (this is an issue specific to my personal camera).
For the sake of proper evaluation, I have not edited any of the following images.
Mount Eden
Mount Eden is named after the first Earl of Auckland, George Eden. It is known in Māori as Maungawhau (mountain of the whau tree). It is almost 200m above sea level with a 50m crater.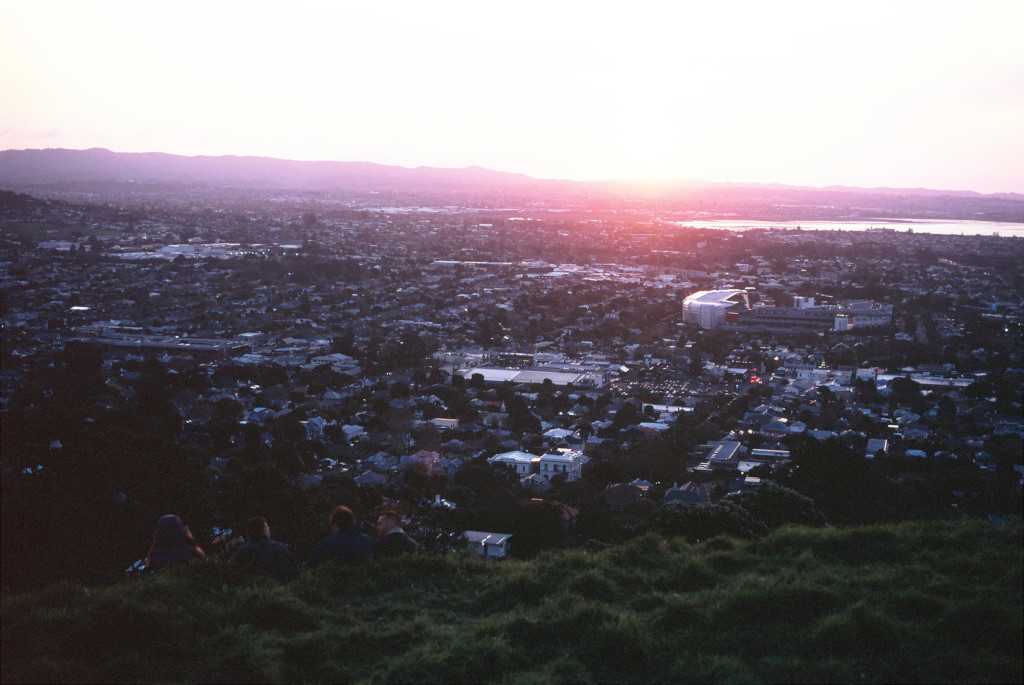 It's evidently difficult to capture the entire detail of such a complex scene on film, but I like the atomosphere on this image. It is also interesting to compare it to the first image on the page.
Sunset at Mount Eden.
Britomart and Waitematā Harbour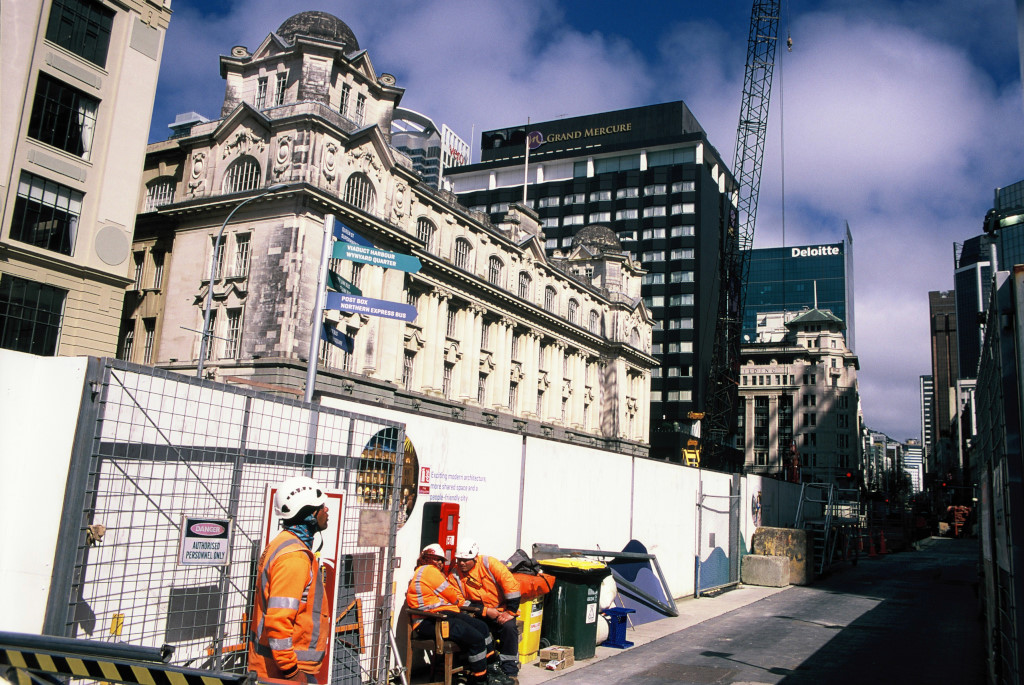 Construction work in Britomart.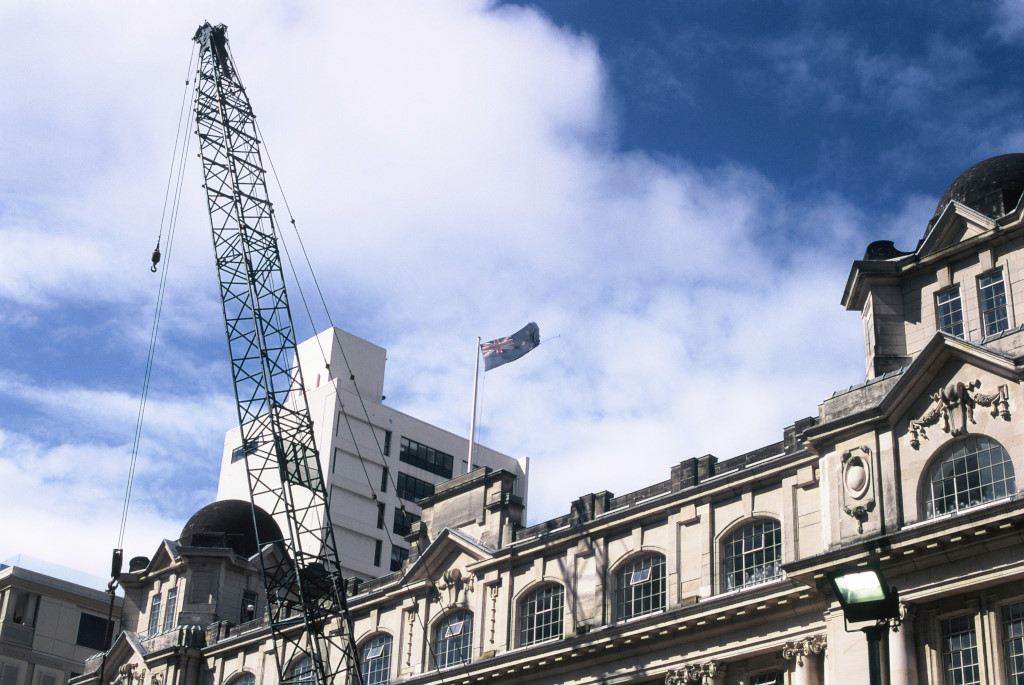 This image is a little over-exposed.
It's nice to see some old-fashioned advertising, not LED displays.
The Greenpeace Rainbow Warrior III - I overexposed this somewhat.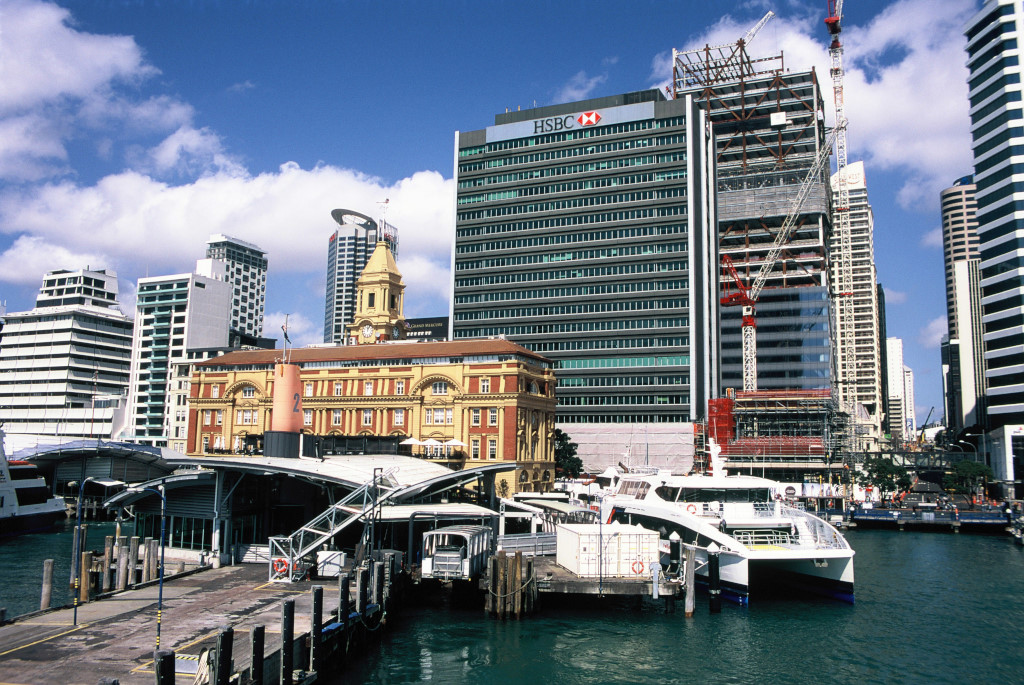 The ferry terminal and HSBC building. The exposure on this image seems to have reached the 'sweet spot', in which it has high saturation and contrast.
This is my favourite image from the set.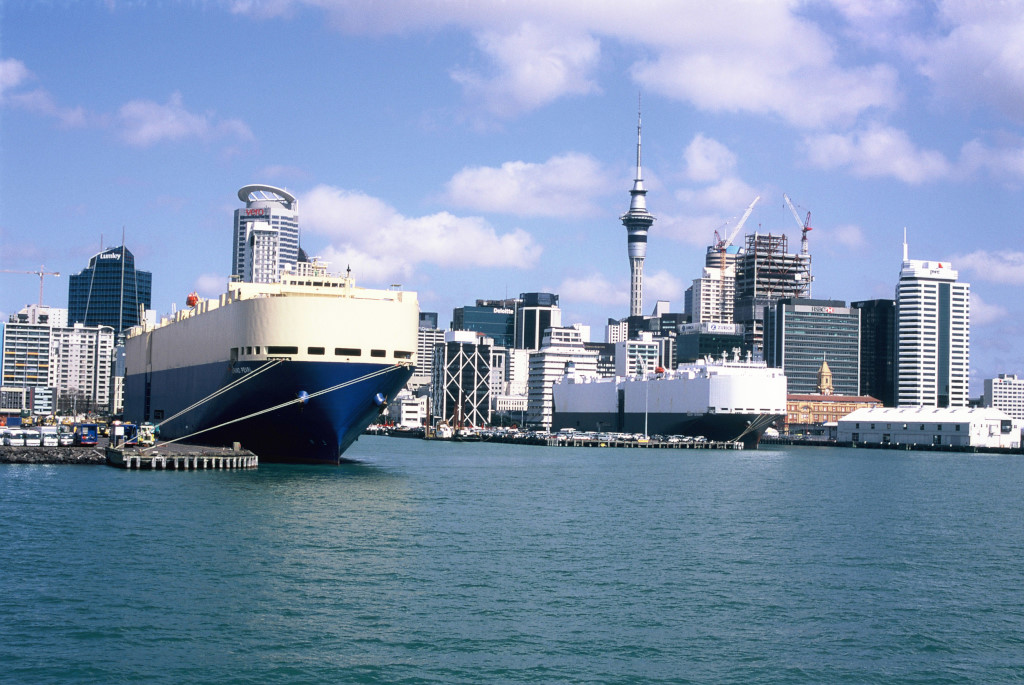 This reminds me of the kind of image one would see in a shipping brochure.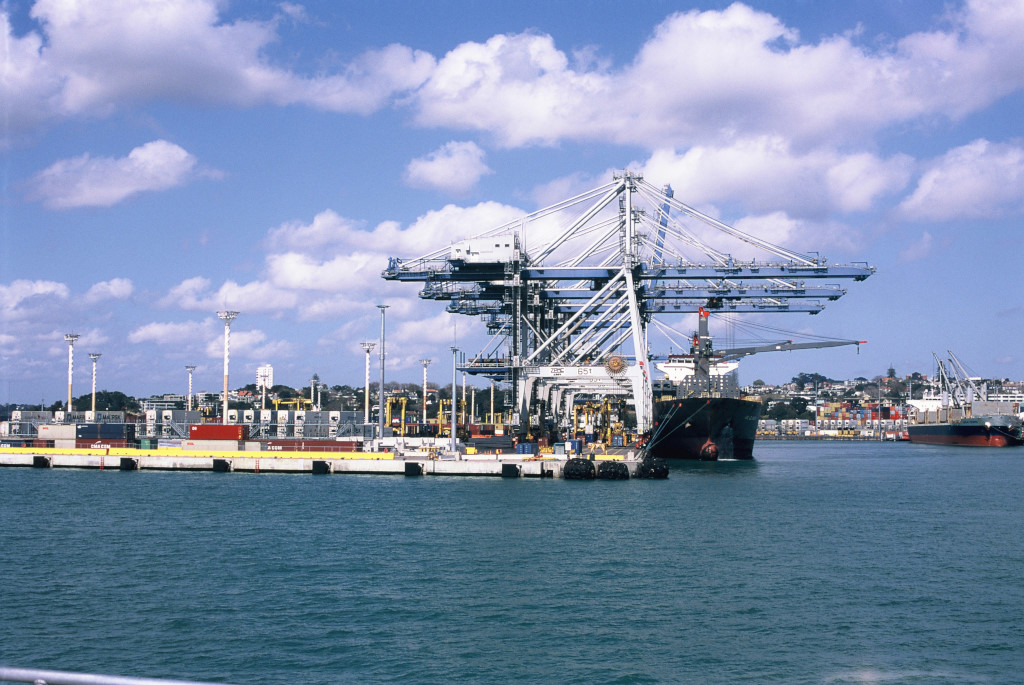 This would be a good photo with a telephoto lens.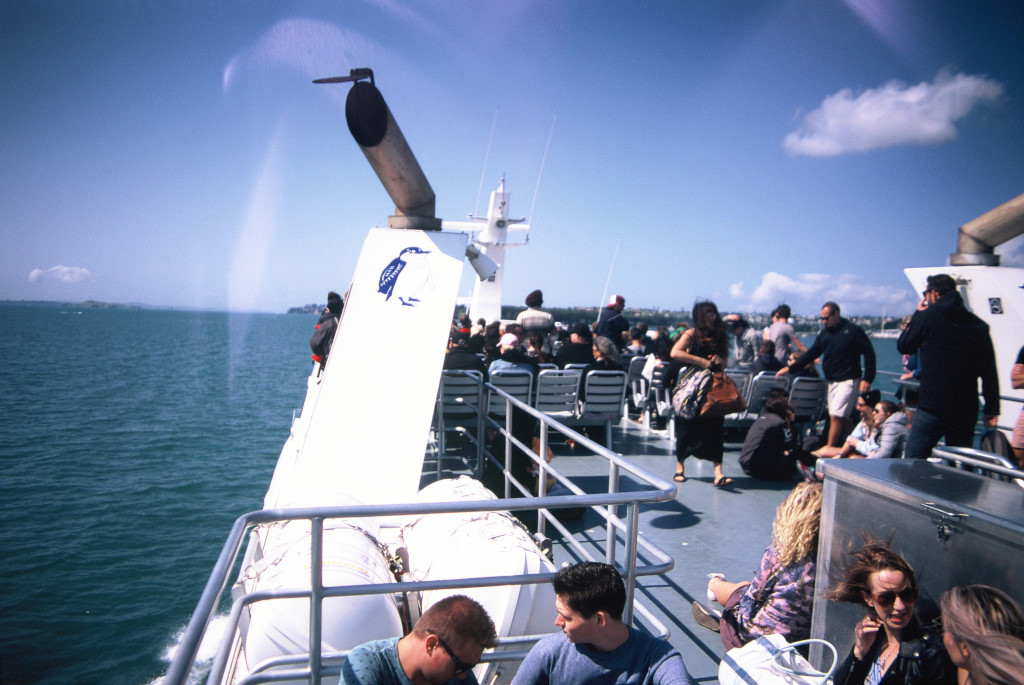 It gets quite cool with the sea breeze on the top deck. At about 10 minutes into the journey, people are already giving up! I love the clouds and the clear vignetting on this image. Also, notice the light leak after I have changed lens.
Waiheke Island
The most populated and second-largest island in the Hauraki Gulf.
Onetangi
The film has brought out a really calming tone.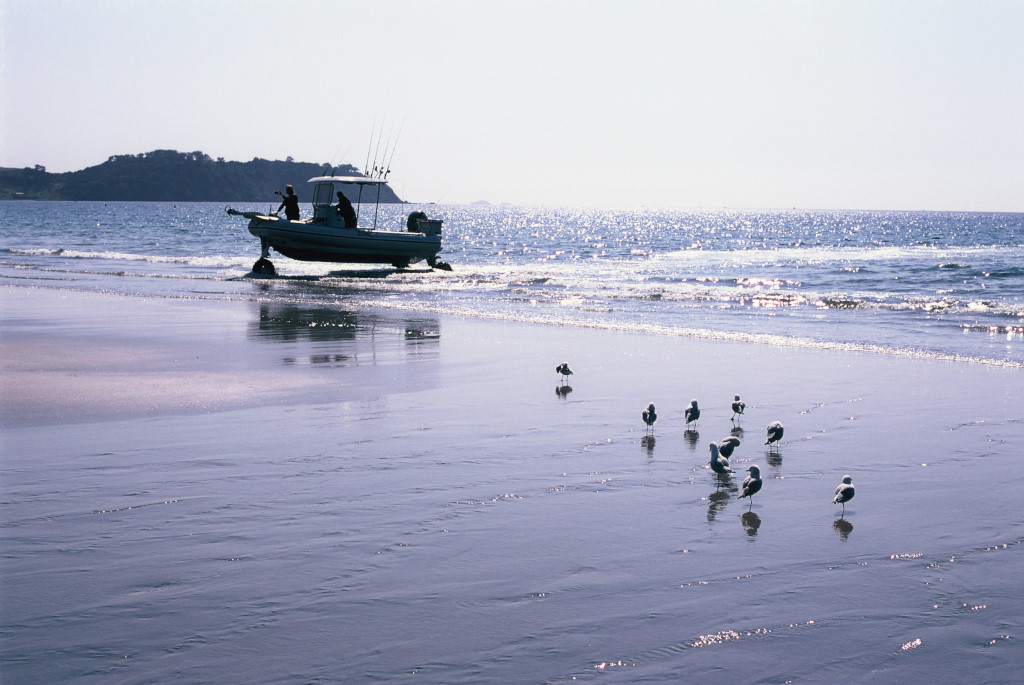 The film works well on semi-backlit scenes such as this.
The film coped well with different levels of lighting on this image.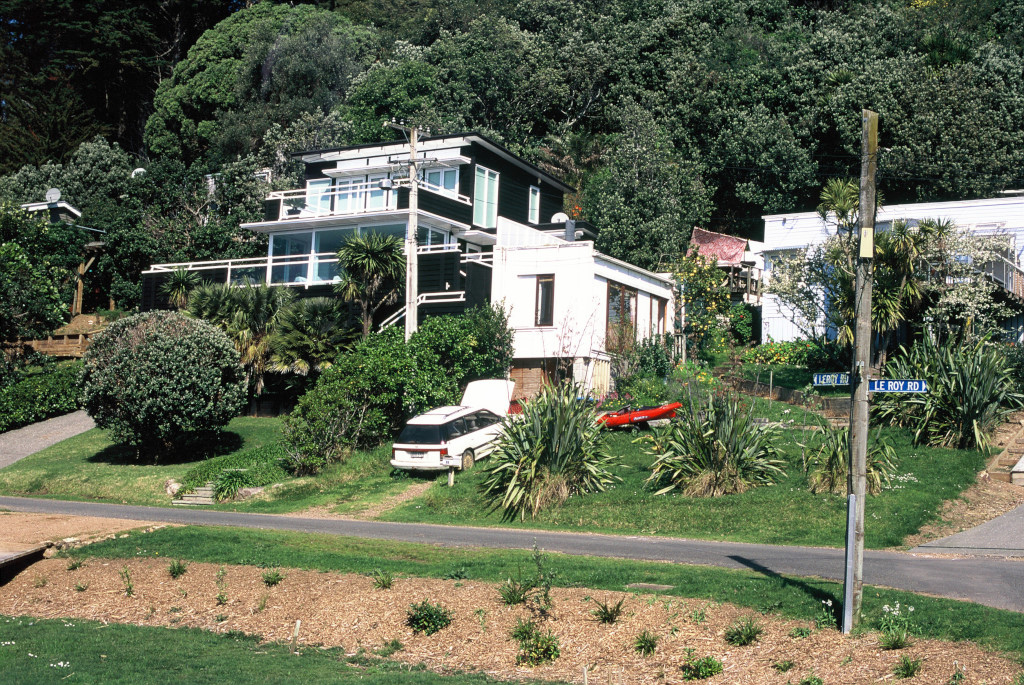 There is lots of pleasing architecture on this island.
I don't do macro photography as much as I should!
I wish that the colour had come out stronger on this. I can't help but think that this film is best for blue-heavy scenes.
A bit of bokeh.
Walking between Onetangi and Palm Beach
Maybe this is a little over-exposed, but the colours aren't anything special on this green-heavy scene.
I under-exposed these images, but still like how they came out. Again, notice the light leak after changing lens.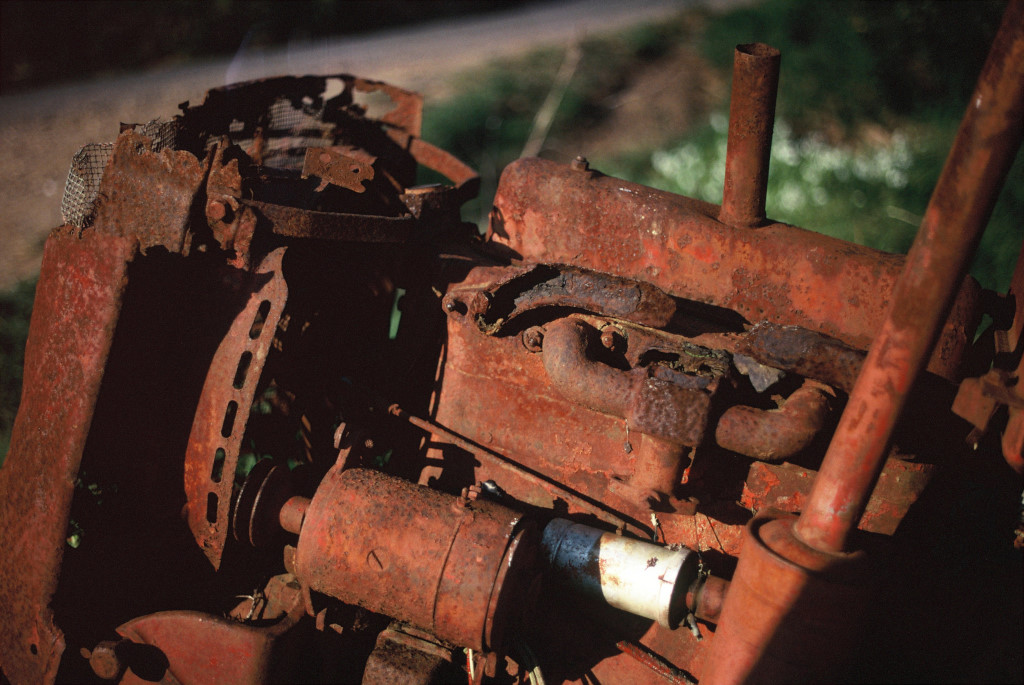 Very gritty! Again, these images show vignetting.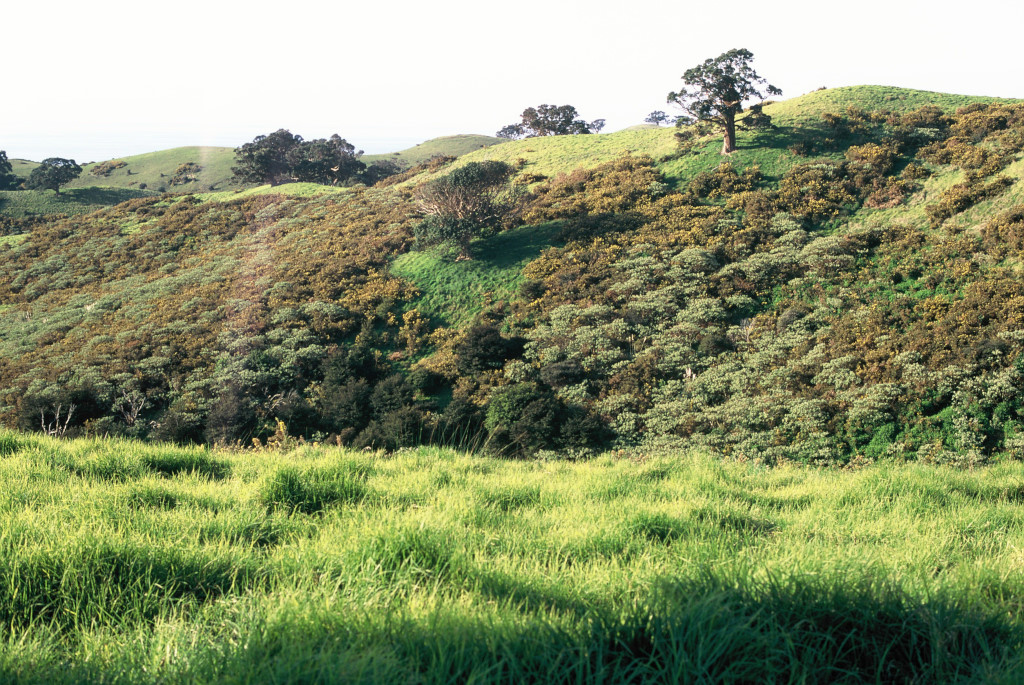 This was such a beautiful scene, taken at just the right time.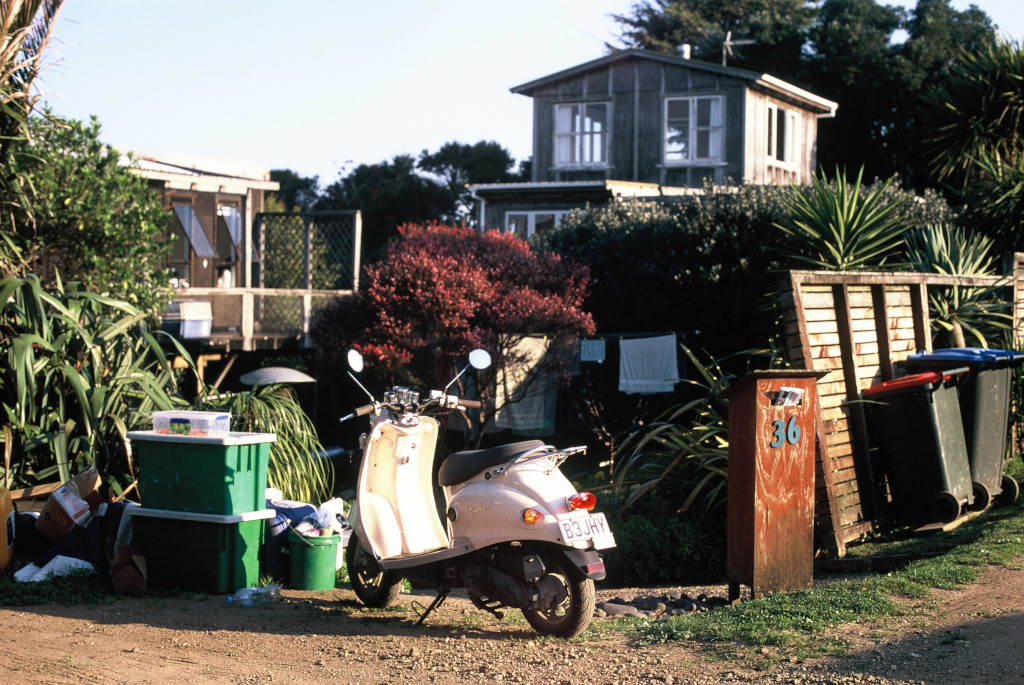 Some places on this island have a lot of character.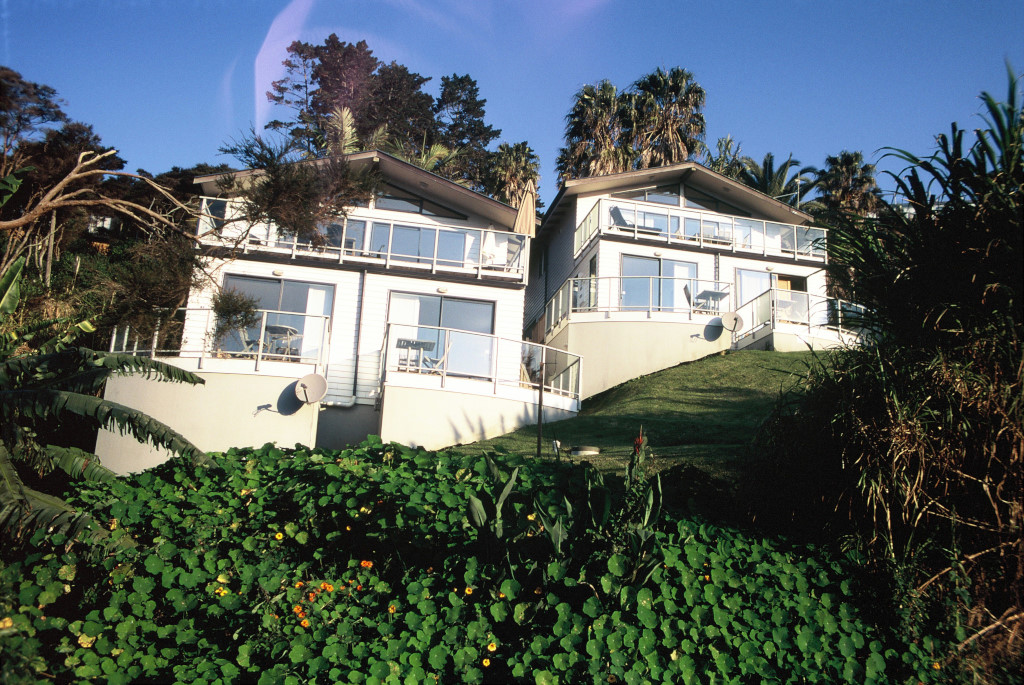 Sometimes the light leaks can detract from a good image!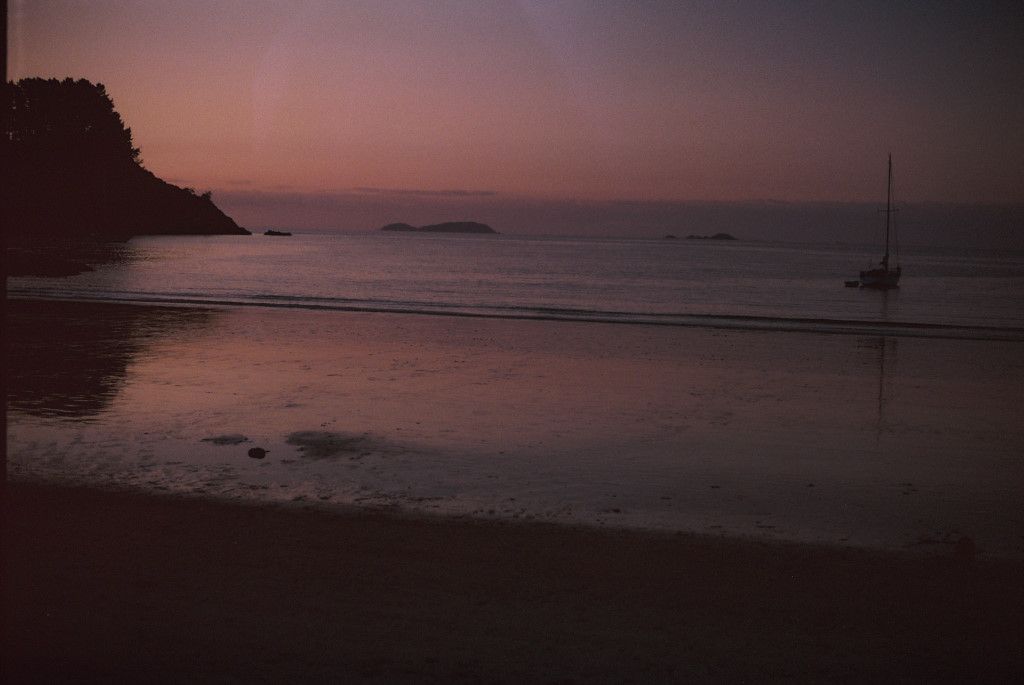 Underexposed, but a nice bit of colour.
Sending the film to the Black and White Box
I can recommend this company for Auckland film processing, having seen the results on this page. It took about a week for turnaround, as they currently only process E6 once a week, and I just missed the day!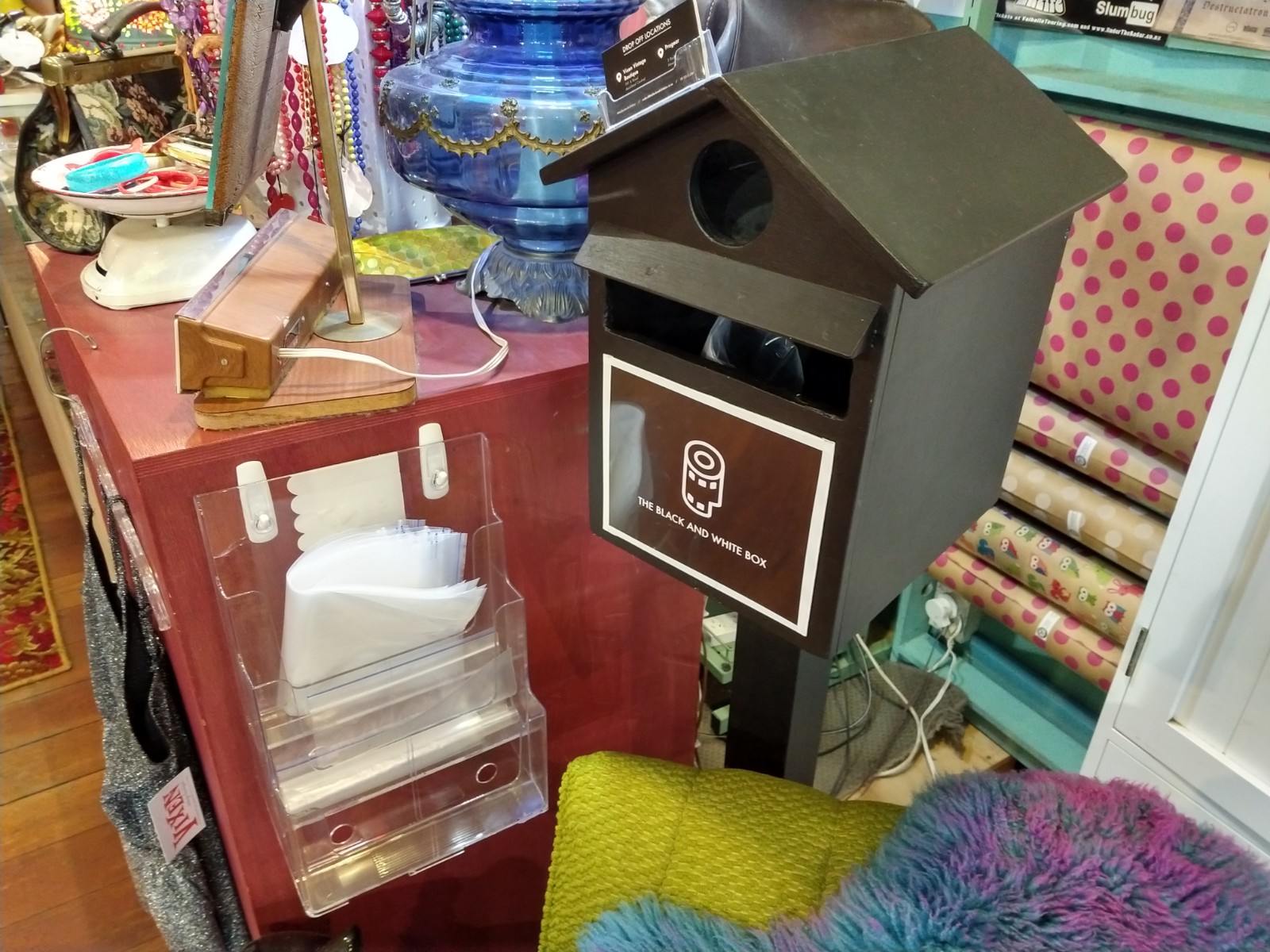 The post box at the Vixen shop, in which film is posted!
Copyright information and disclaimer
All images and text on this website are copyright 2018 wakey.com, all rights reserved.
Whilst efforts have been made to ensure the accuracy of this website, we do not take responsibility for any issues relating to errors / omissions.