During August and September 2018, I spent 12 days in Malaysia and Singapore. This was my first visit to Asia, and was the first time that I had decided to shoot all of my travel photographs on 35mm film. The reason for this was that I fancied a challenge, and I had found a reasonably-priced darkroom in Kuala Lumpur.
Whilst a wide variety of films were used, I only used one camera: a 1980s Ricoh KR-10 Super. The three manual focus lenses used were: a Tokina 28mm f/2.8, a Ricoh (Rikenon) 50mm f/2 and an 80-200mm zoom lens. All of these were manual focus - which added to the skill required but did provide a satisfying level of control.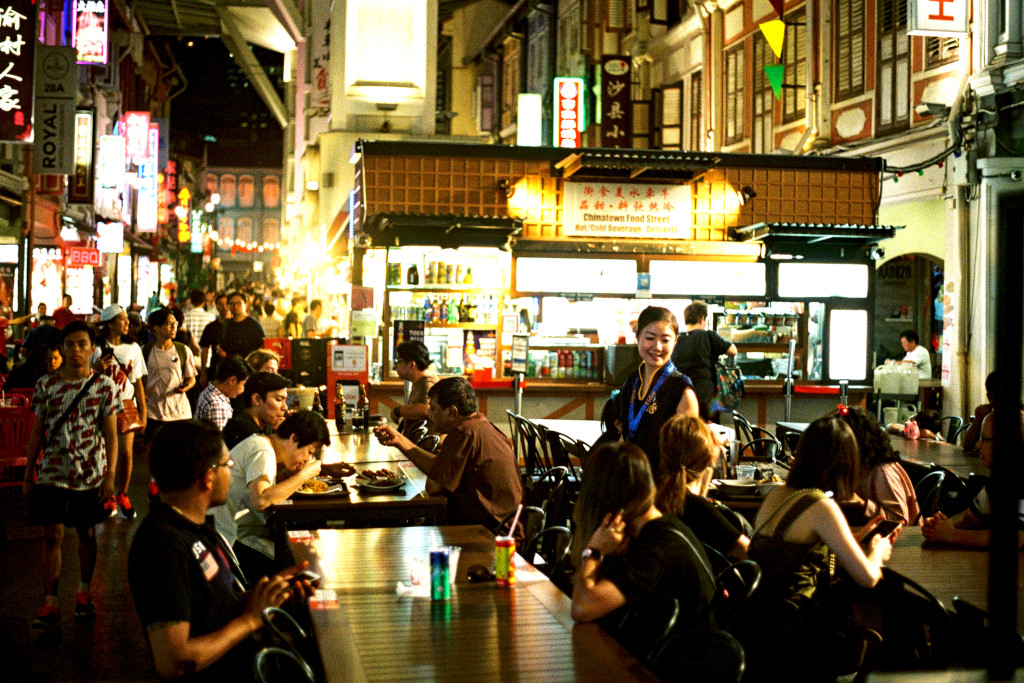 The Hawker Centre in Chinatown, Singapore at night. This photo was taken using Fuji Superia Venus 800 film, at f/2 on a 50mm lens. It has had some digital post-processing for brightness, contrast and highlights.
Contents
This page is split between Malaysia and Singapore, and then by film type, which is ordered ascendingly according to speed. I have given a brief overview of the costs, strengths and weaknesses of each film, though the photographs speak for themselves! It must be noted that these are my best results - others have not made the cut!
Equipment
Ricoh KR-10 with 50mm f/2 Rikenon lens
Film rolls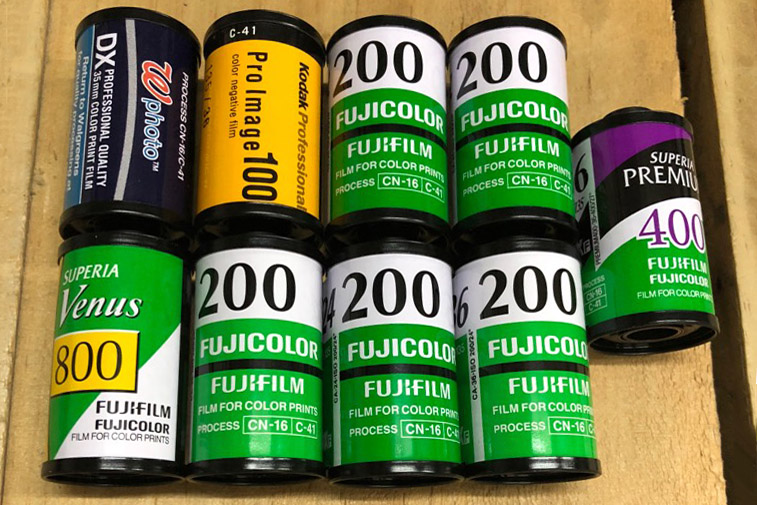 Here are my rolls of 35mm negative film shortly after collection by Darkroom8!
Malaysia
Other than my time spent travelling to and from Singapore by train, I spent all of my time within the capital - Kuala Lumpur. This is an impressive city of contrasts: from the pristine area surrounding the Petronas Towers and the central business district, to the sleepy colonial heart of the city, to the less affluent areas which boast vibrant markets and street food stalls.
Malaysia (as Malaya) obtained independence from the United Kingdom on 31st August 1957, with Malaysia formed when Singapore became independent on 16th September 1963. Kuala Lumpur seems to have grown significantly since independence, as most architecture and infrastructure seems relatively new, and the skyline is very tall.
The Malaysian flag is displayed prominently in many photos. This is because they were primarilly taken in the week before and after the independence day celebrations. Unfortunately I missed the big firework display as I was in Singapore at the time!
Malaysian's are primarilly Malay and muslim, but there are a wide variety of cultural, religious and ethnic groups present, which again adds to the photographic interest of the country.
Fujifilm C200
This cheap-and-cheerful film is probably the most widely-available variety, but its performance is not to be mocked. It is a solid performer in a variety of conditions, but it needs to be well exposed. It is infinitely better to be one stop over-exposed than under-exposed, so I usually expose this at +1 exposure bias (though I am not sure if my camera has lost a little precision since it was made in the 1980s)!
It is easy to pick up when travelling, but in 2012 I purchased about 24 rolls in the UK that had recently expired in packs of 3 x 24 exposures for £1.99, meaning that they were 66p per roll! Needless to say, if I had to pay ~£5 per roll to begin with, I doubt my interest in 35mm film would have been kindled so easily. I have nearly run out now! These now get exposed at +2 exposure bias because over time they have lost their sensitivity.
Petronas Towers
Finished in 1996, these twin towers were the world's tallest buildings until 2004, at a height of 451.9m! At their base is a large high-end shopping centre featuring stores for luxury brands such as Gucci and Prada. Immediately outside there are restaurants, bars, a fountain & light show, and a landscaped park! Needless to say, this succeeds at presenting a strong impression of Malaysia to the visitor.
The skyline and area around my hostel
What makes Kuala Lumpur impressive is that all of the skyscrapers are located in one area, making up for a cool skyline, especially at night! The hostel (Tuxedo KL) that I stayed in was impressive: with a rooftop swimming pool and incredible views from the 28th floor!
This image has had some digital post-processing. It's hard to beat this!
Street market near Chow Kit
Masjid Jamek: the old Jamek Mosque
First opened in 1909, but with history on the site before its present-day construction, this mosque was once the largest in Kuala Lumpur.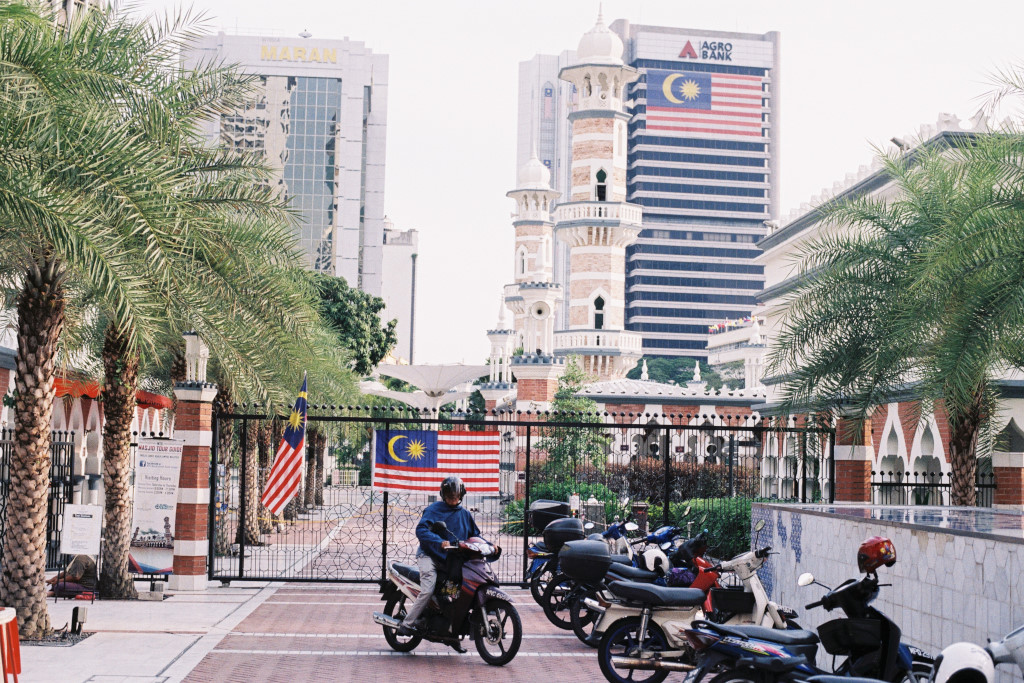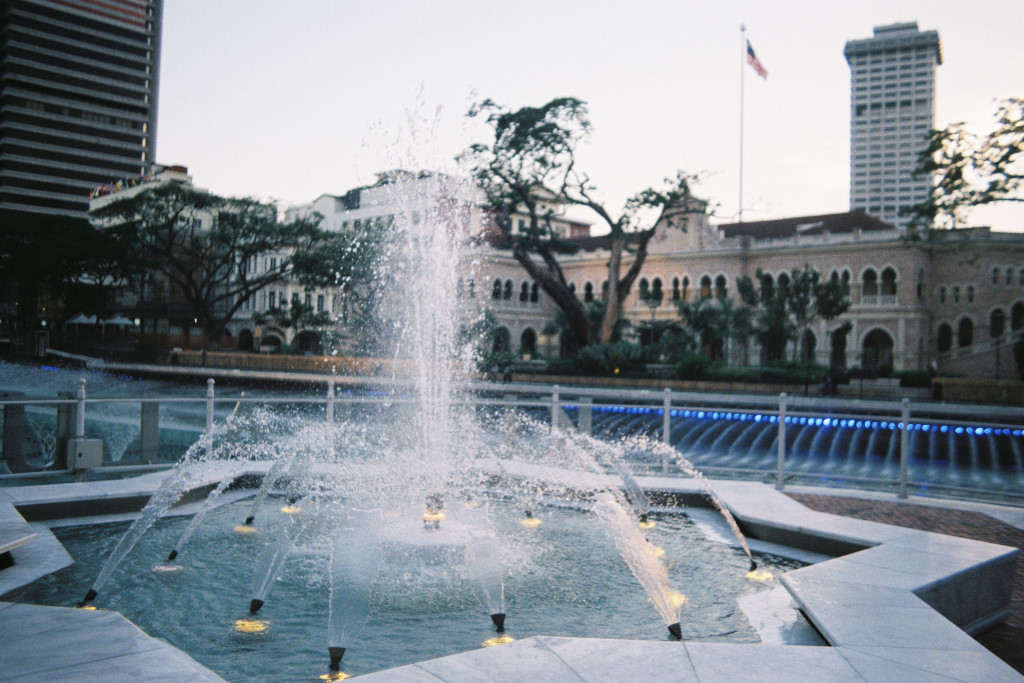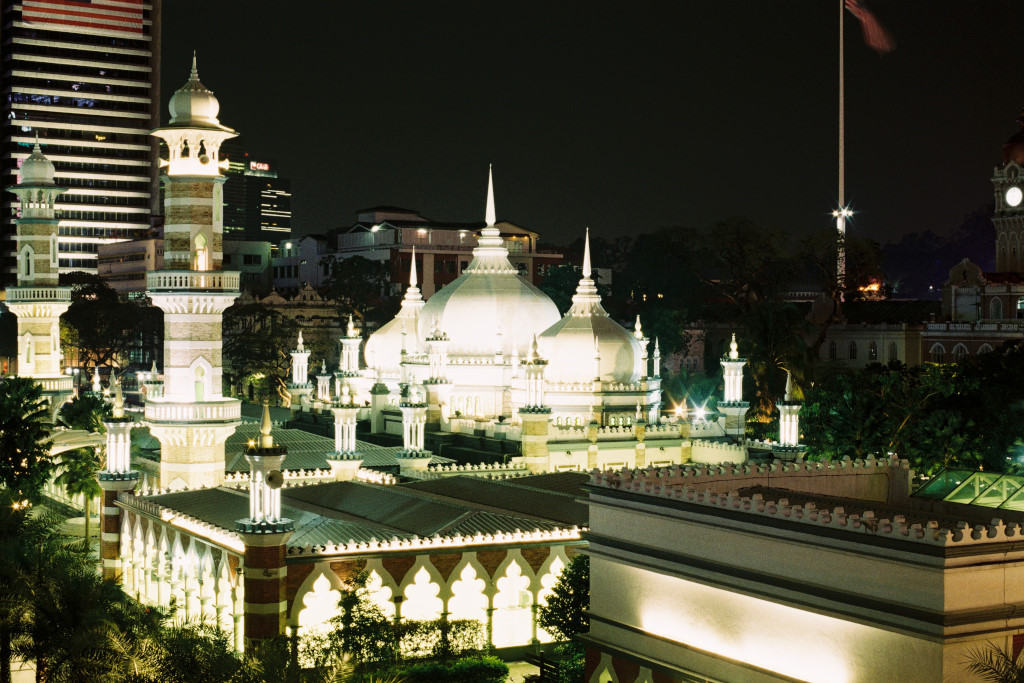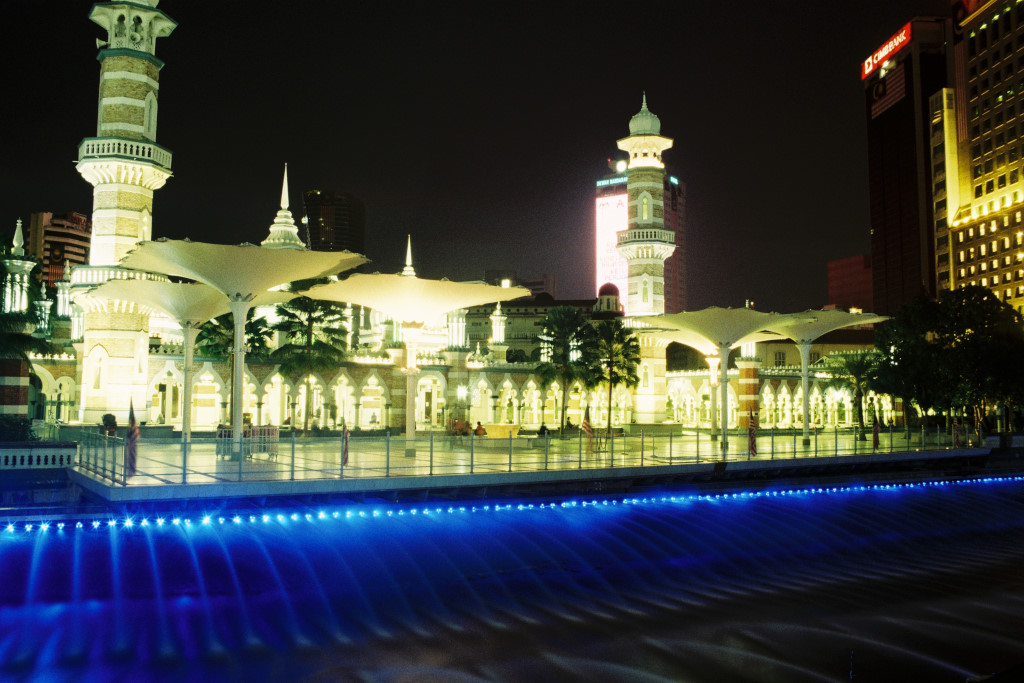 The Sultan Abdul Samad Building
Completed in 1897 and built in Moorish style, this building once housed the offices of the former British colonial administration.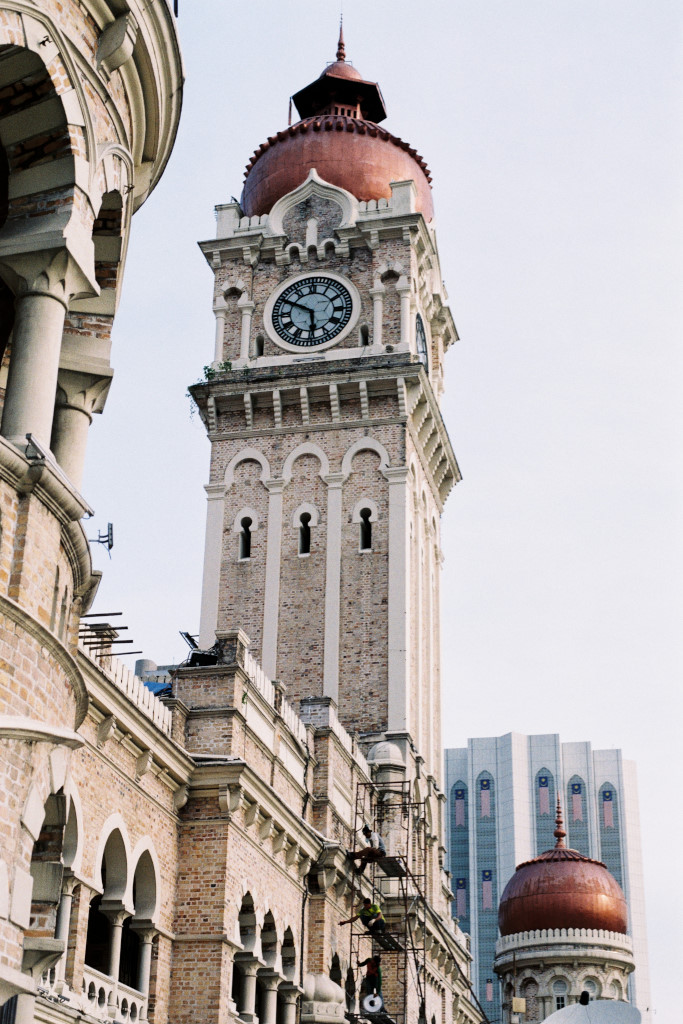 Batu Caves, temple and market
These caves take their name from the Sungai Batu, which flows past the hill, and are one of the most popular Tamil shrines outside of India. Guano (bat droppings) began to be collected from the caves during the Victorian era for use as agricultural fertiliser.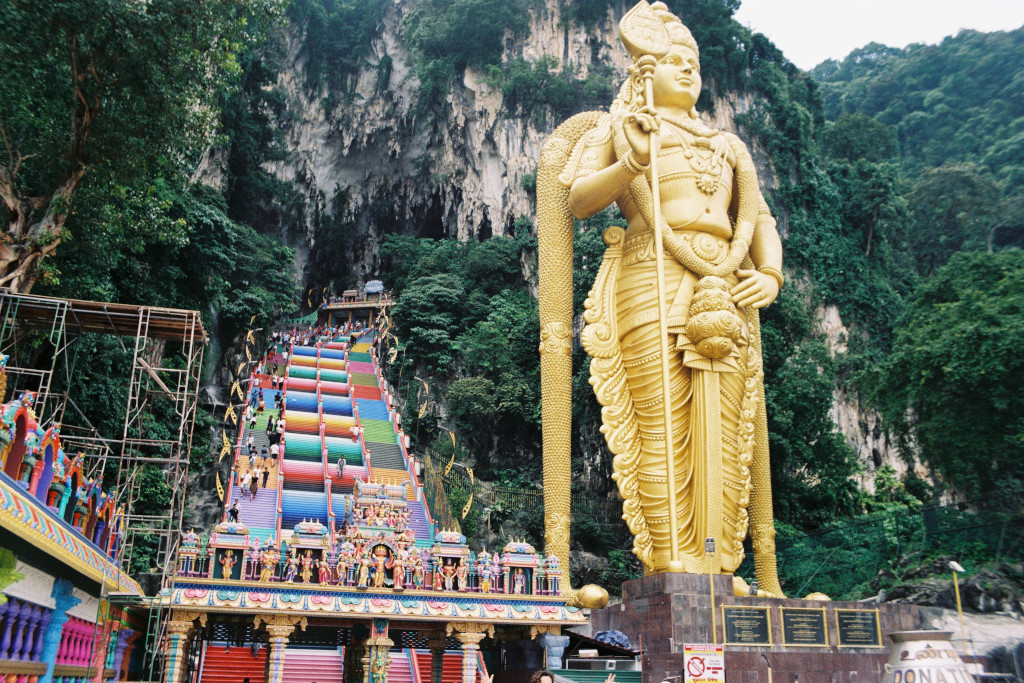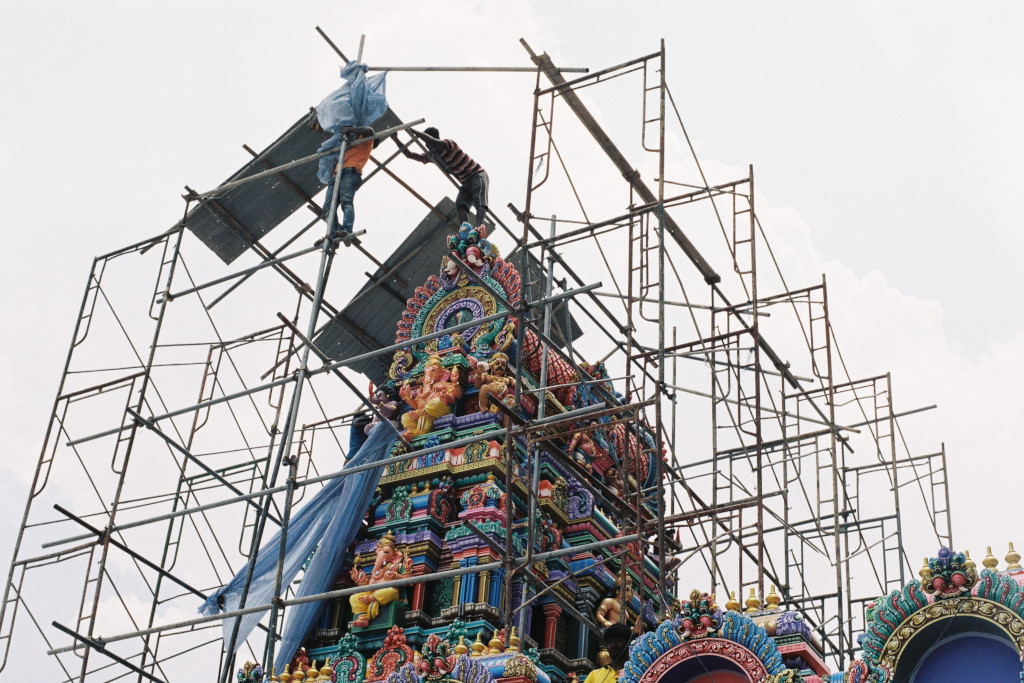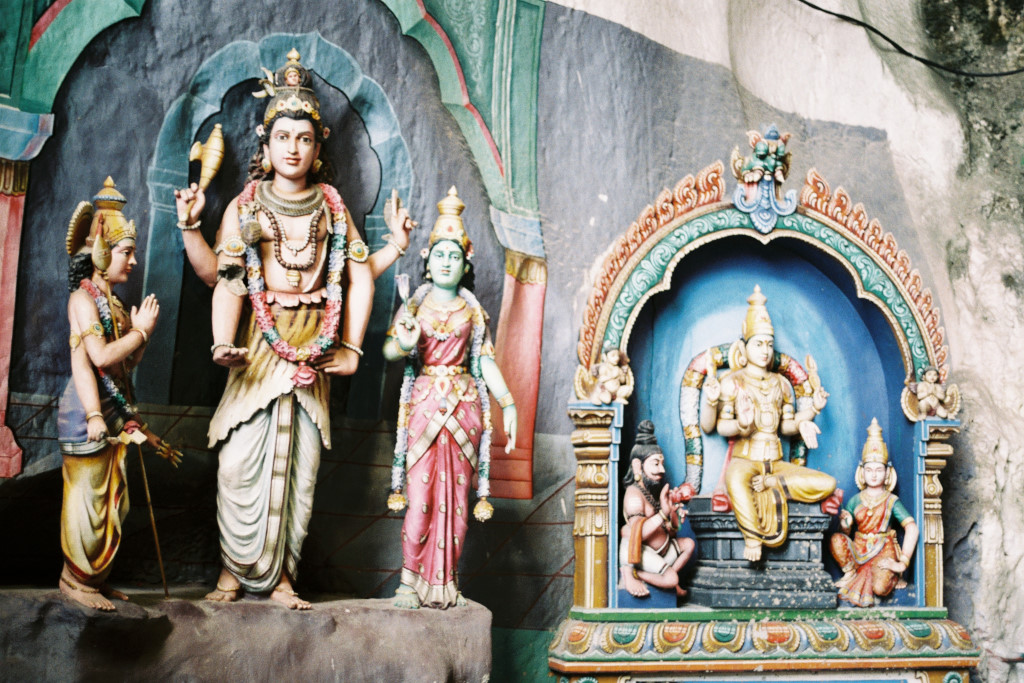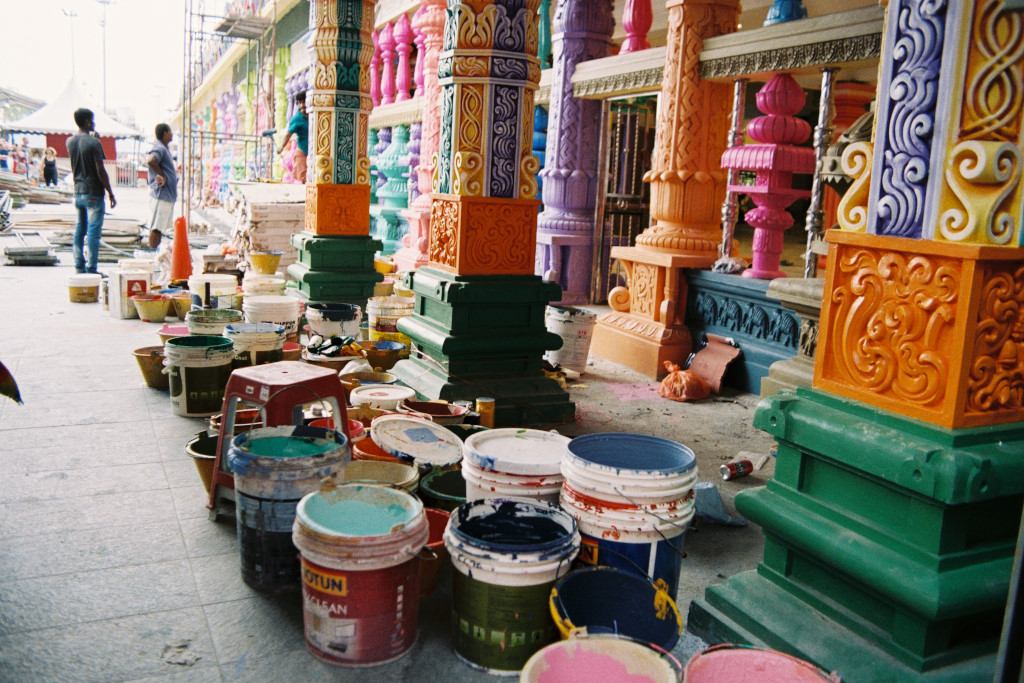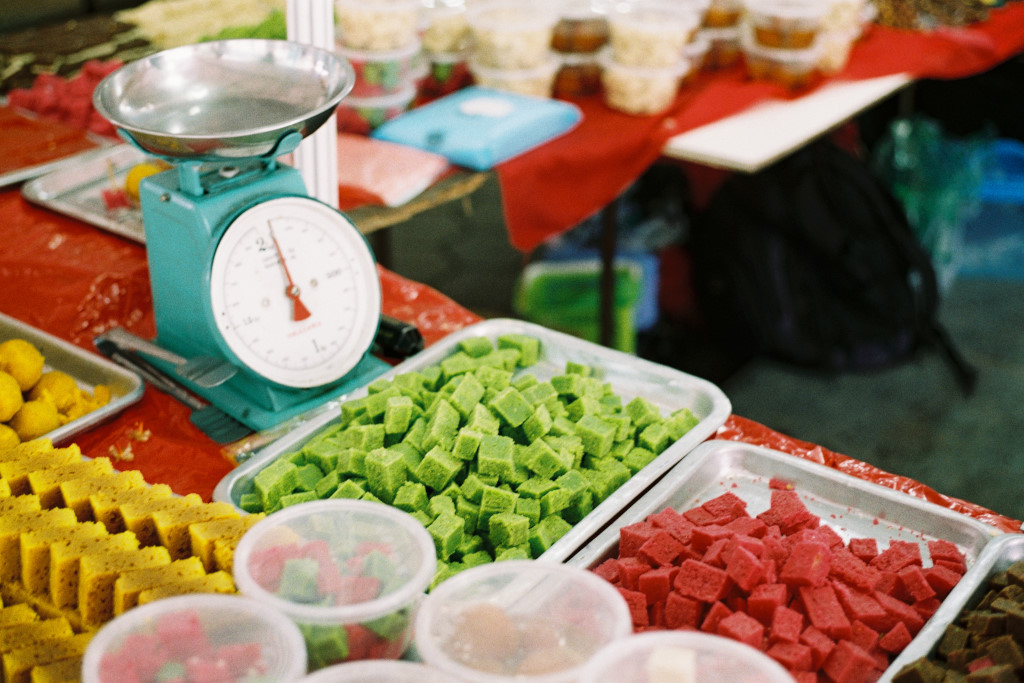 Travelling by train
Sadly I took few photos on my journey to Singapore, and most were on my phone!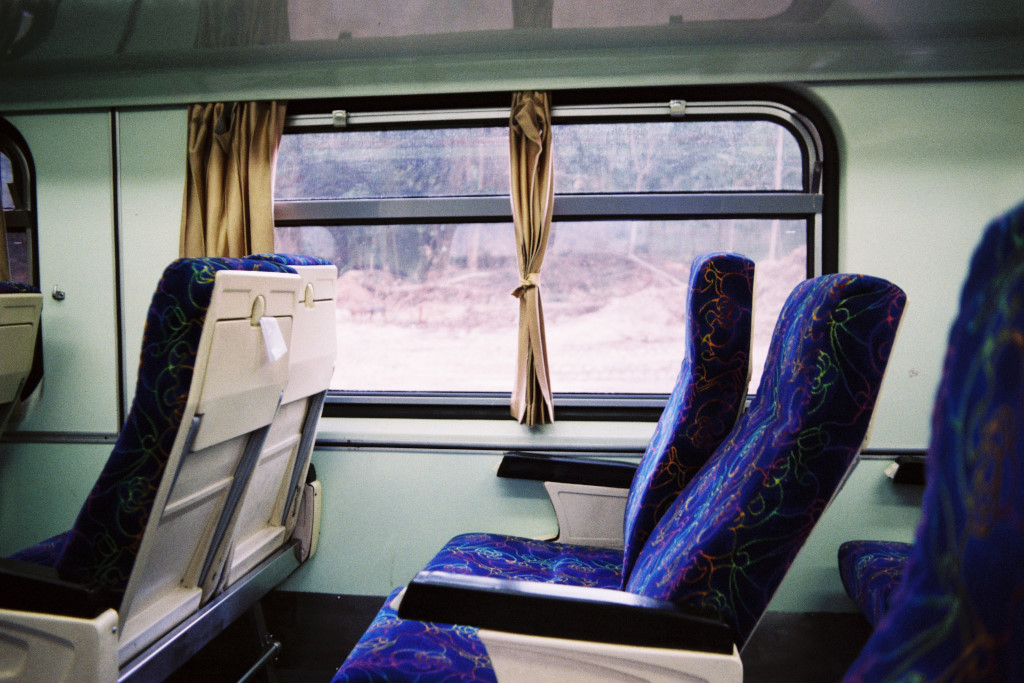 There is evidence of vignetting around the corners on this image.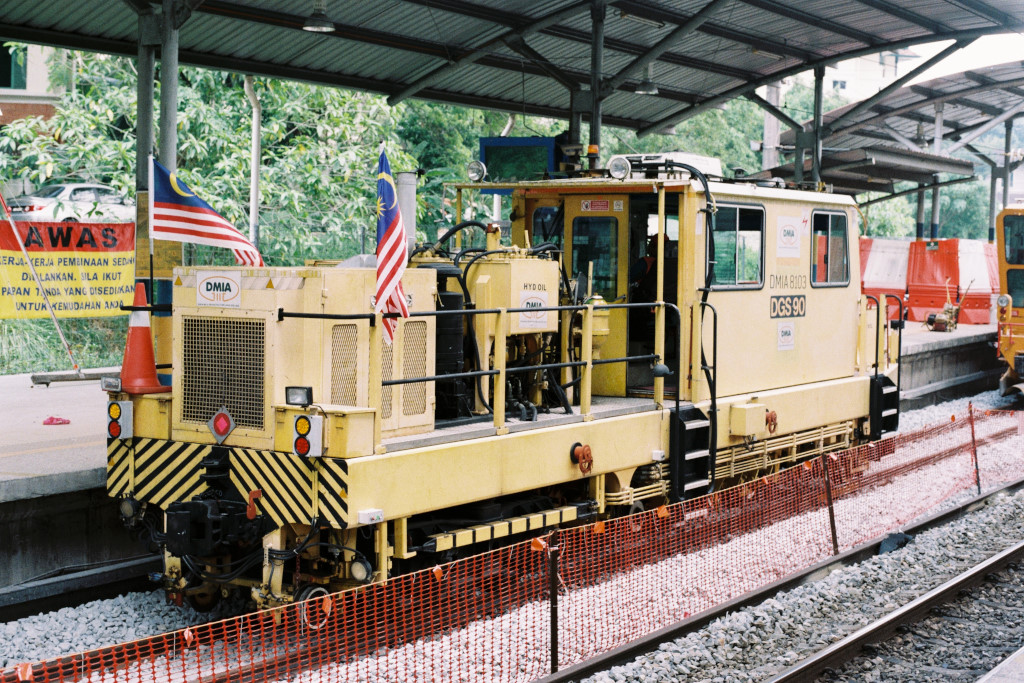 Even the trains are patriotic in Malaysia.
Walgreens 200 film
Is this re-packaged Fuji C200 or AGFA 200? I don't know. Some websites seem to think that it is C200, but my developer thinks that it is Agfa. It comes in a Fujifilm-style cannister. Either way, this seems like a good film, but like Kodak ProImage, it doesn't like too much over-exposure!
The River of Life
To say it is the river of life, it could do with a little cleaning up! It was one of the few blemishes on this city.
Still not as authoritarian as Singapore.
These clothes belong to homeless people, who presumably washed them in the river.
The 'old' Kuala Lumpur railway station
This colonial-era station, built in 1910, was replaced by the much larger and better-connected KL Sentral in 2001, but is still open for a more limited train service. It was built in a Moorish style typical of colonial buildings from that era - and is a very aesthetically-pleasing building!
One can see how over-exposure has left the sky and the white building looking 'blown out'!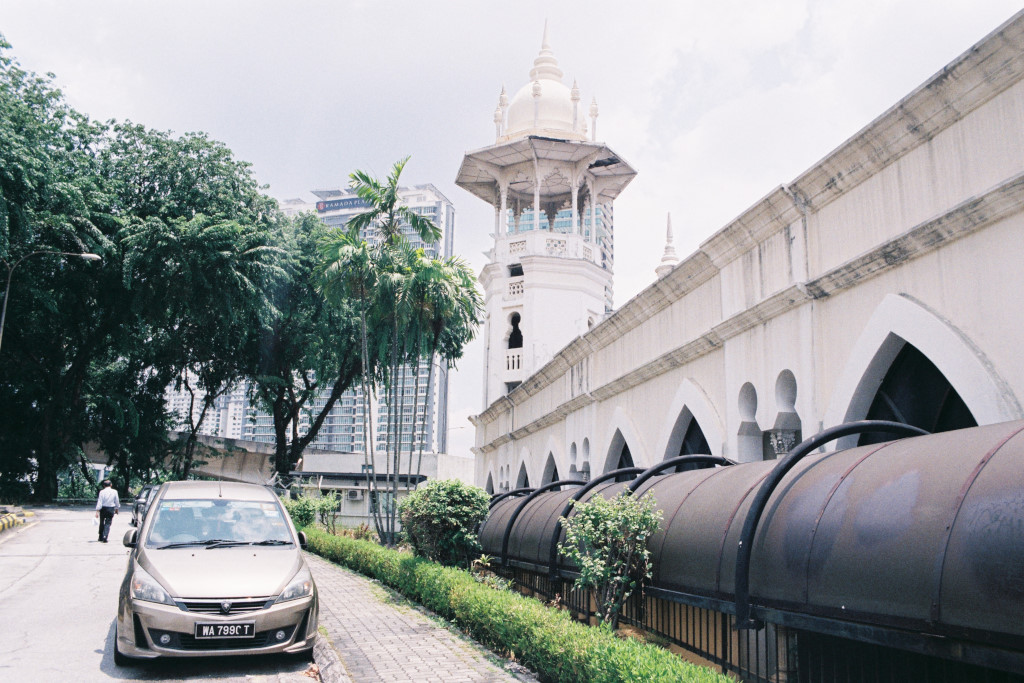 The quite, forgotten atmosphere is evident here!
Fujifilm Professional 400H
In contrast to the other premium Fujifilm seen further down the page, this film performed brilliantly - though I only tested it in overcast conditions. It is expensive at approximately £10 per roll, but produces lovely realistic colours.
The Malayan Railways (KTM) headquarters building and Kuala Lumpur station
There is an interesting plaque outside the building which provides an overview of its history. It was designed in 1913 by British architect AB Hubbock and was completed in November 1917. It again is in a Moorish style, designed to "reflect the glory of Ottomon and Mongol glory of the 13th and 14th centuries blendied with Gothic and ancient Greek designs of the 14th century". It was seriously damaged twice in the second world war, and also suffered a fire in 1968.
Notice the old semaphore signals that they have placed at the entrance and exit. There is a subway into the railway station.
The impression of movement is presented by the motorbikes, as the shutter speed (1/250th of a second) was slow enough to blur them.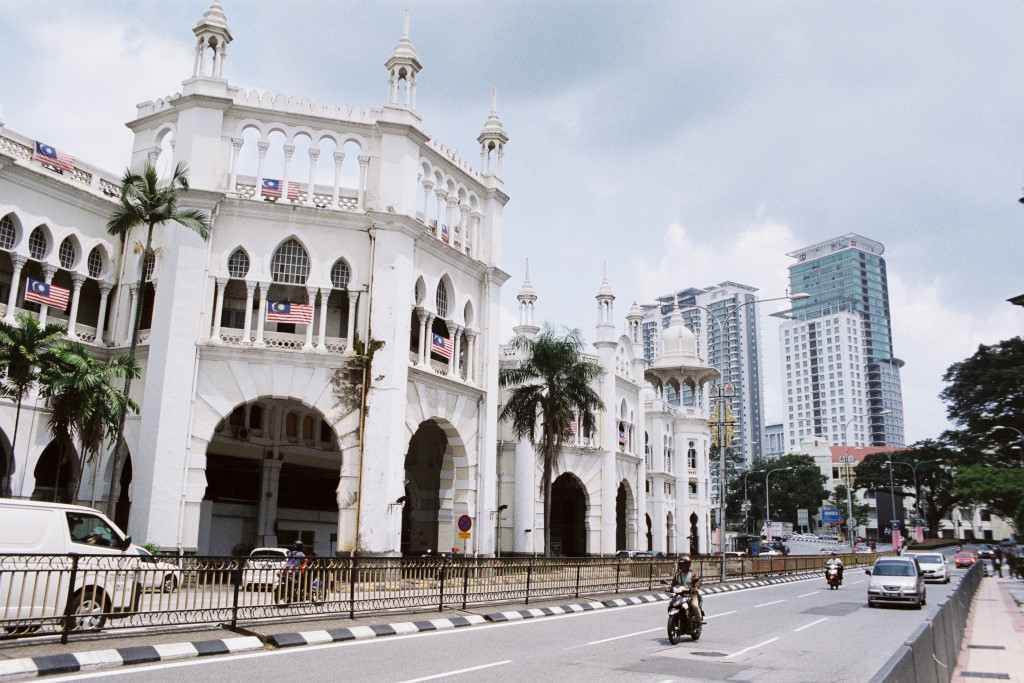 Next to the Textile museum
The building on the right was completed in 1905 and originally housed the railway headquarters.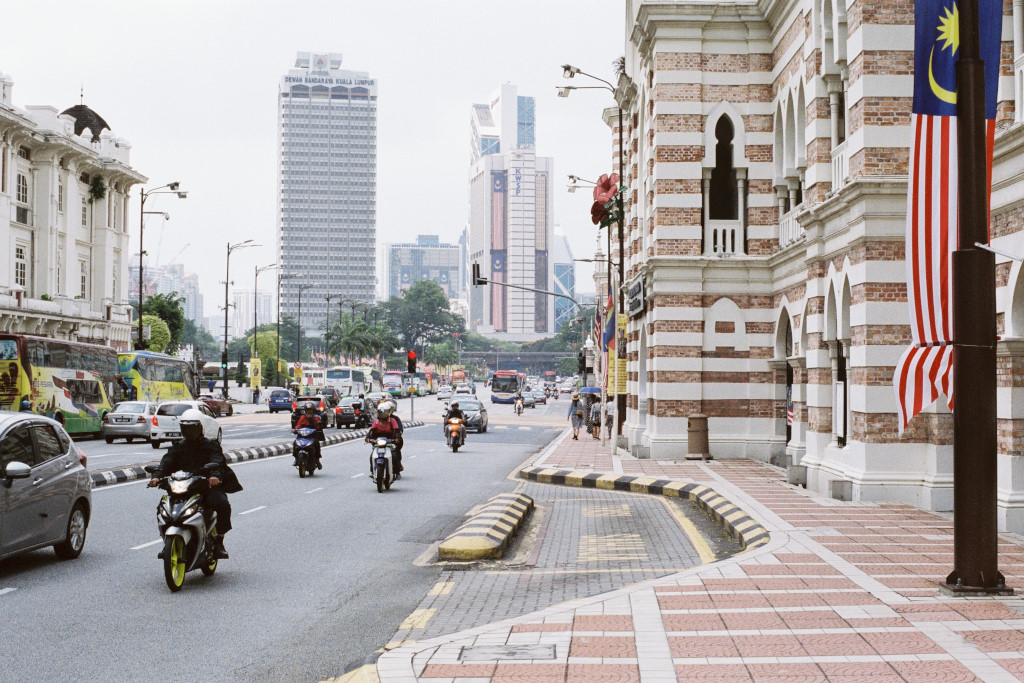 I can't get enough of the quality of this image!
Masjid Jamek lookout point
The confluence of the Gombak and Klang rivers was a natural meeting point, which led to the establishment of Masjid Jamek's predecessor mosques and the development of Kuala Lumpur.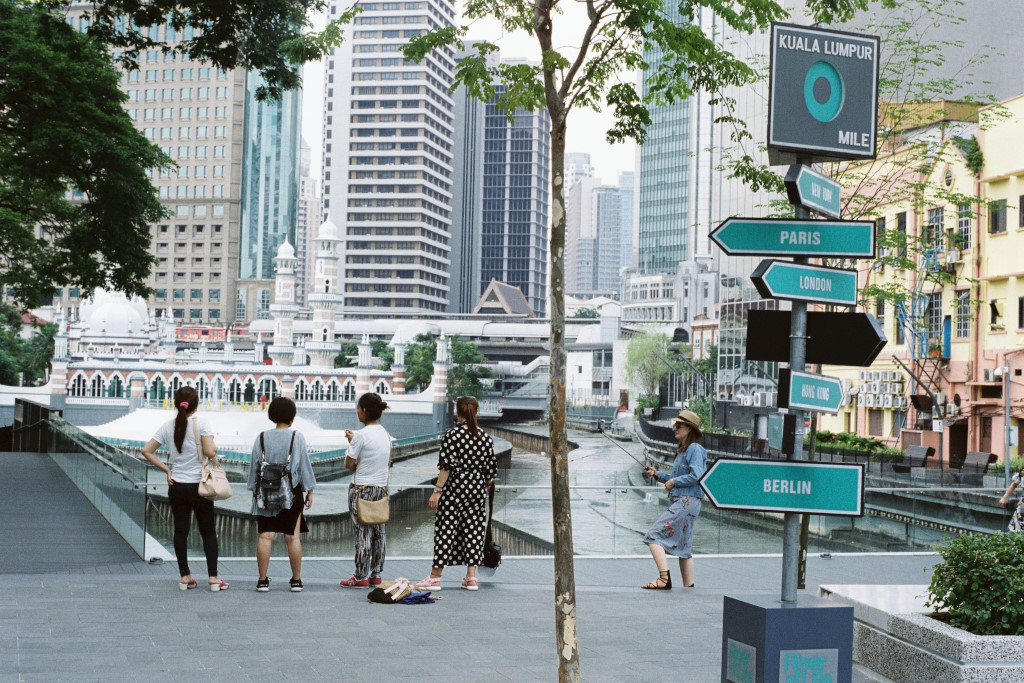 I was rushing to get this picture, as the women seemed perfectly positioned for the composition.
The old market square
I was waiting a while for a motorbike to show up for this.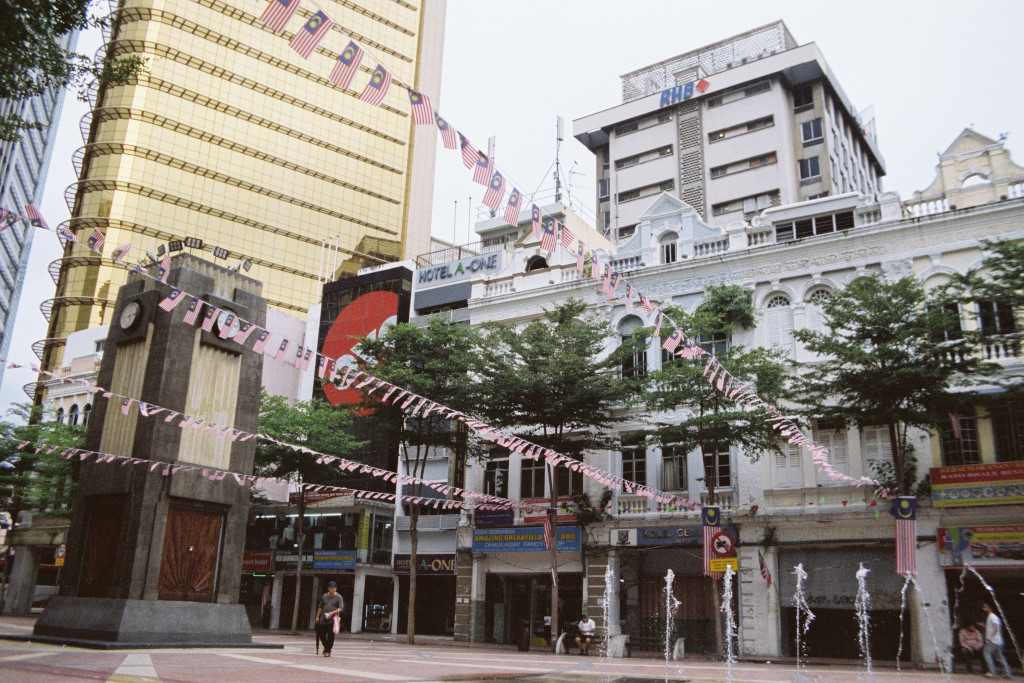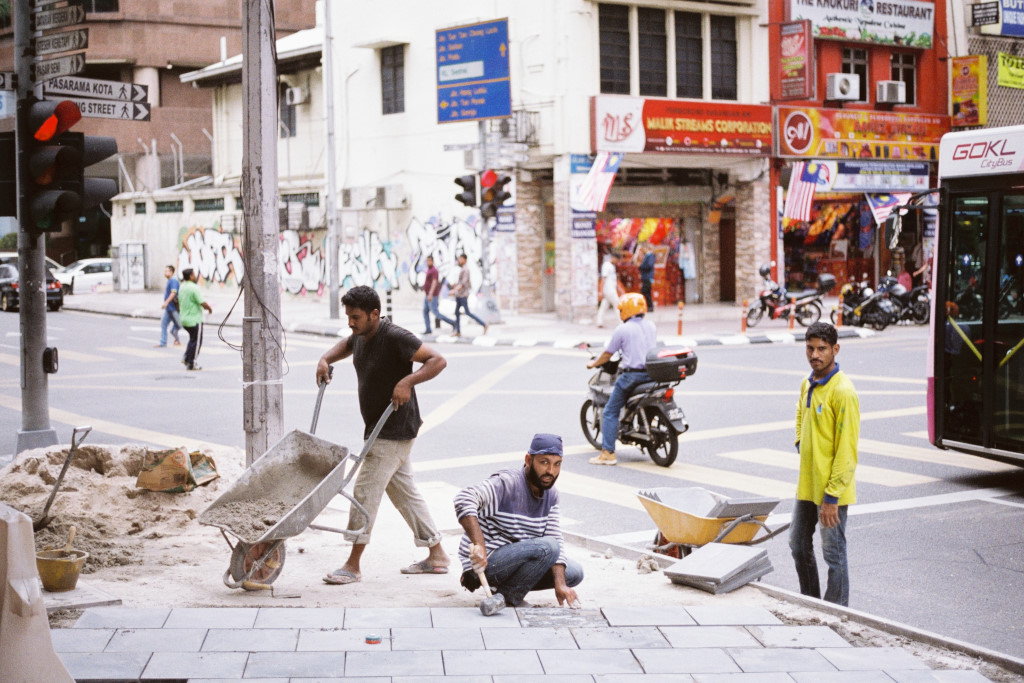 The area surrounding KL Sentral
The sheer amount of flyovers in Kuala Lumpur provide ample photographic opportunity.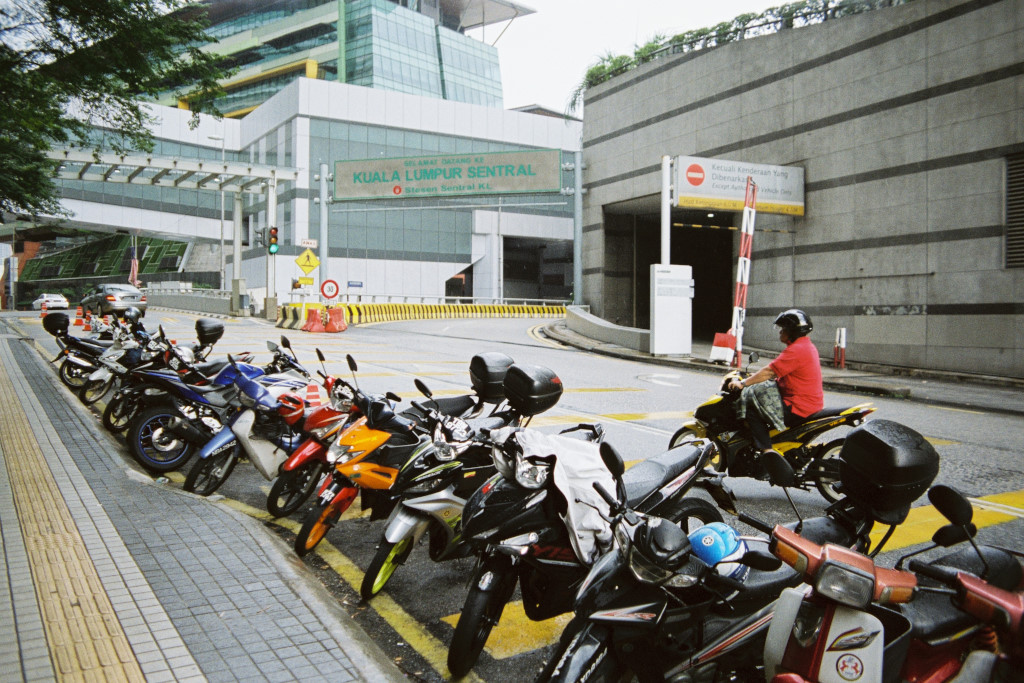 Pasar Seni area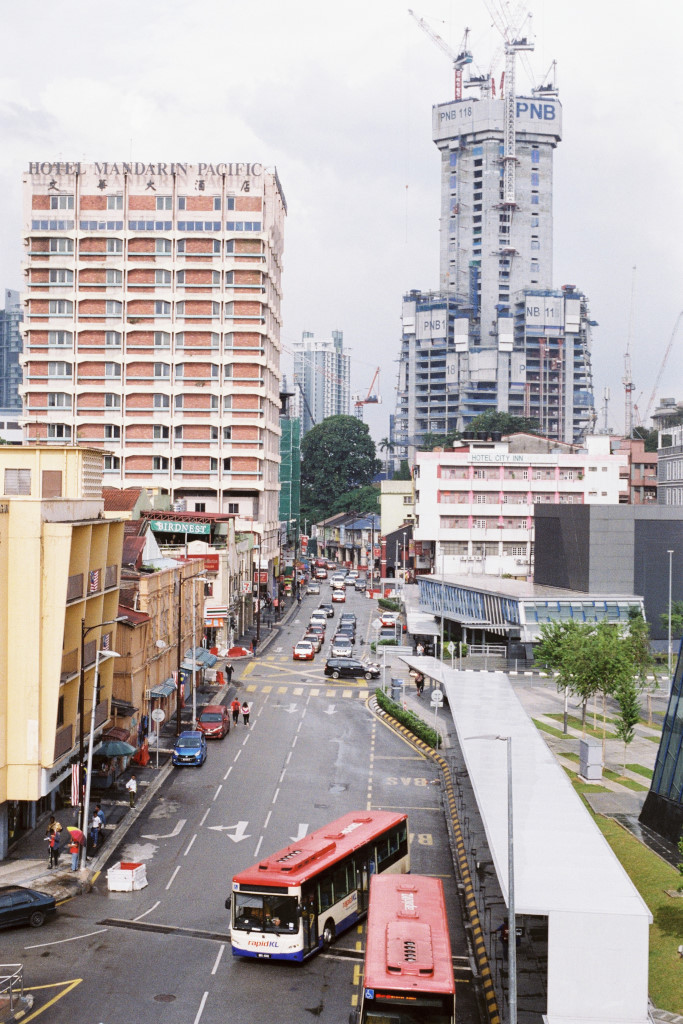 I can't get enough of the mood and colours on this image!
The Malaysians certainly are more patriotic than Brits!
This was taken at the end of the roll, so I have accidentally shot over a third of it! The restaurant in the shot also houses Darkroom8, my developer, upstairs.
Kodak UltraMax 400 (GC 400)
This film cost approximately £5 and is your run-of-the-mill 400 speed film from Kodak. I rapidly loaded it into my camera when I saw a Buddhist parade whilst passing through Kuala Lumpur. The film seemed to work well in the late afternoon's overcast conditions, and captured the colours nicely - though, it appeared to be quite a 'red' film. This compares to Kodak's ProImage 100 which was quite blue. Some images are a little out-of-focus - it is quite hard to use a manual focus camera in a rush!
Buddhist parade near Pasar Seni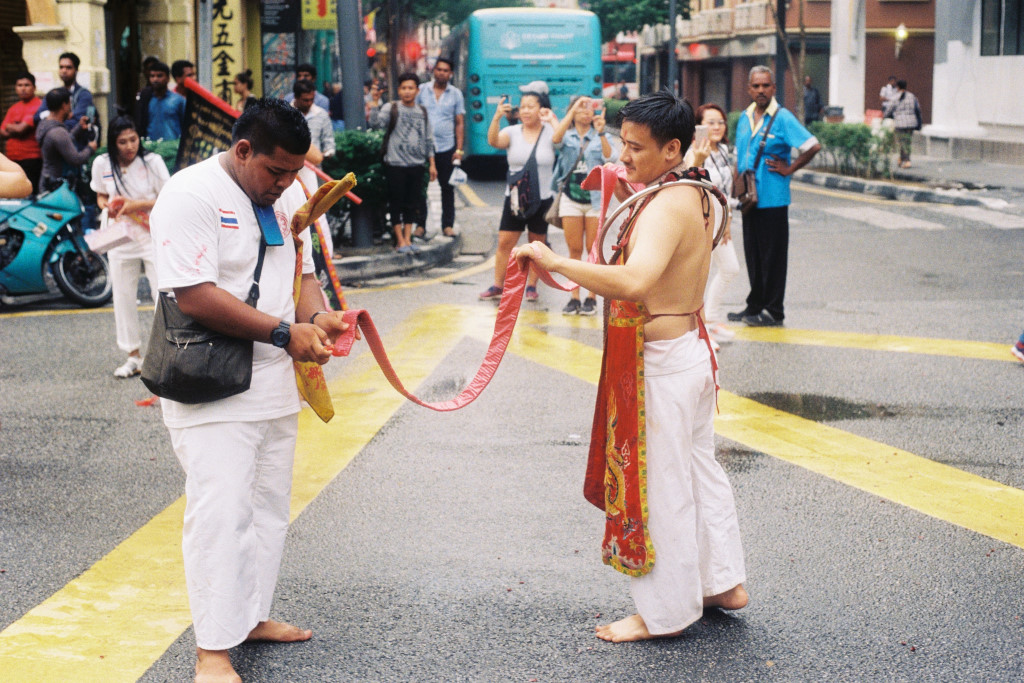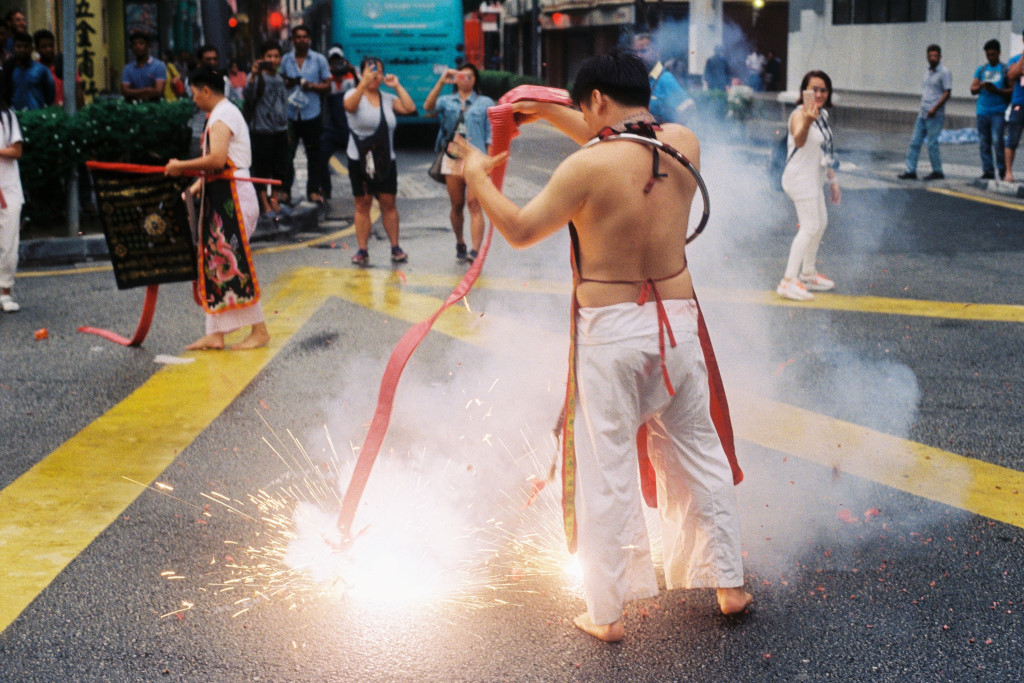 These firecrackers were just a little bit deafening!
Near Chinatown
The great thing about Kuala Lumpur was that there was so much to see when walking down the street. A lot of the pavements seemed to be under construction too, which added interest.
A nice bit of 'bokeh' behind the bottle!
This image is a little over-exposed, and one can see evidence of a light leak on the left of the train.
Singapore
Kodak ProImage 100
This is a slow-speed film that I picked up for about SG $6.50 (~£3.65), making it a relative bargain for 36 exposures. It has quite a blue-ish tone with saturated colours overall. It seems quite good for sunny days, but don't over-expose it too much because highlights seem to 'blow out' a little bit more easily with this film!
Helix bridge
This bridge, built in 2010, was inspired by the curved structure of DNA.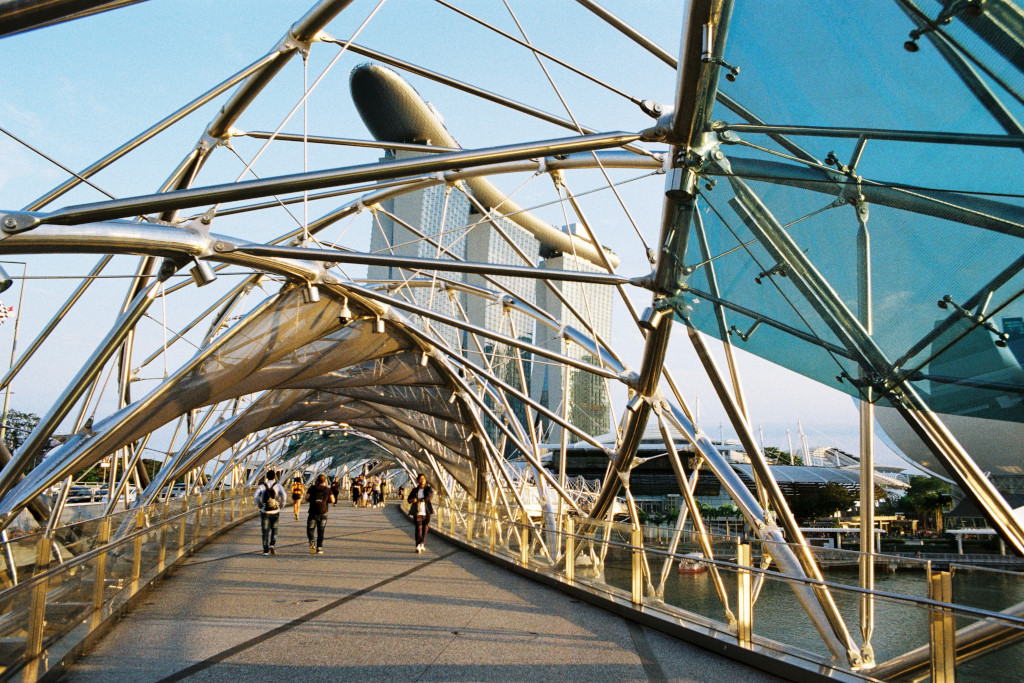 Pulau Ubin island
Pulau Ubin is one of the most remote areas in Singapore, and is a throwback to the past, when Singapore was less developed. The name means 'Granite Island' in Malay, and had thousands of settlers working to quarry granite in the 1960s. Nowadays it is a home for many threatened bird species.
It is a great value day out, as the ferry costs SG $6 for a return journey, and bike hire is also approximately SG $6.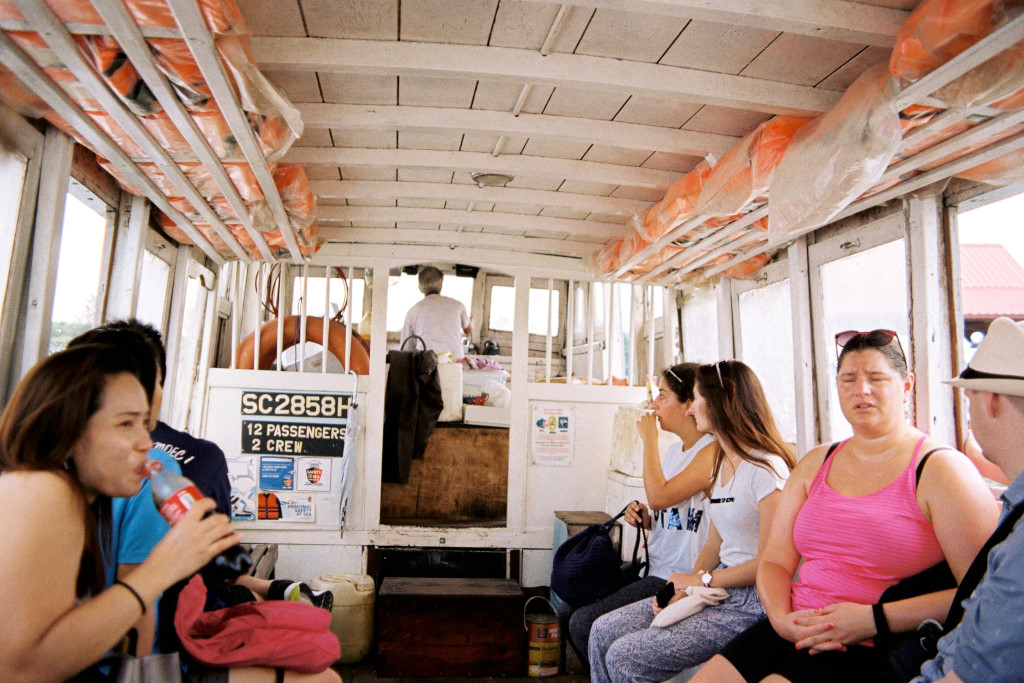 This image has had digital post-processing.
This image has had digital post-processing.
This image has had digital post-processing.
Fujifilm C200
Around the city
It must be noted that Singapore is a place of many rules. The ban on chewing gum sales is probably the most famous rule, but it is also illegal to cross the road within 50m of a pedestrian crossing! A SG $20 fine can be given for first offences, with up to 3 months in jail for repeat offenders!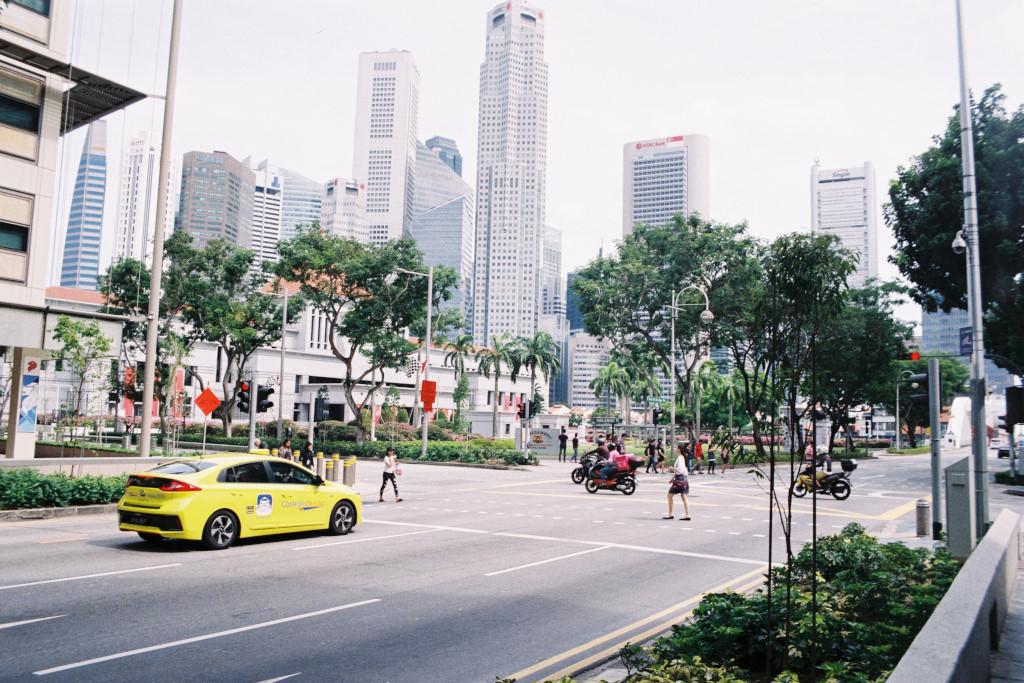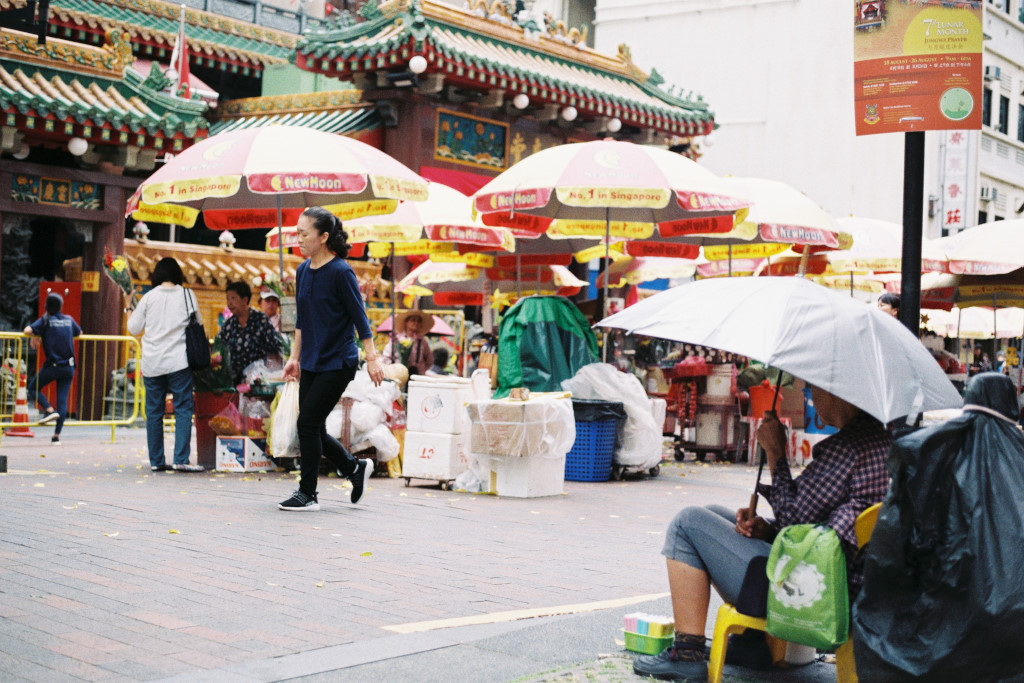 Pulau Ubin island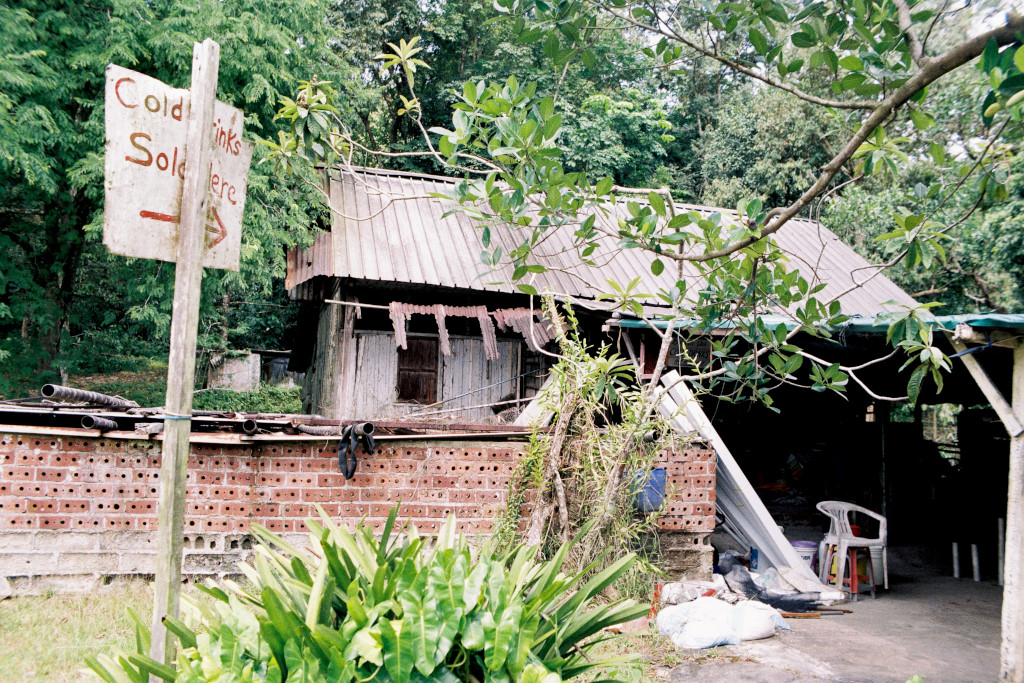 This image has had some digital post-processing.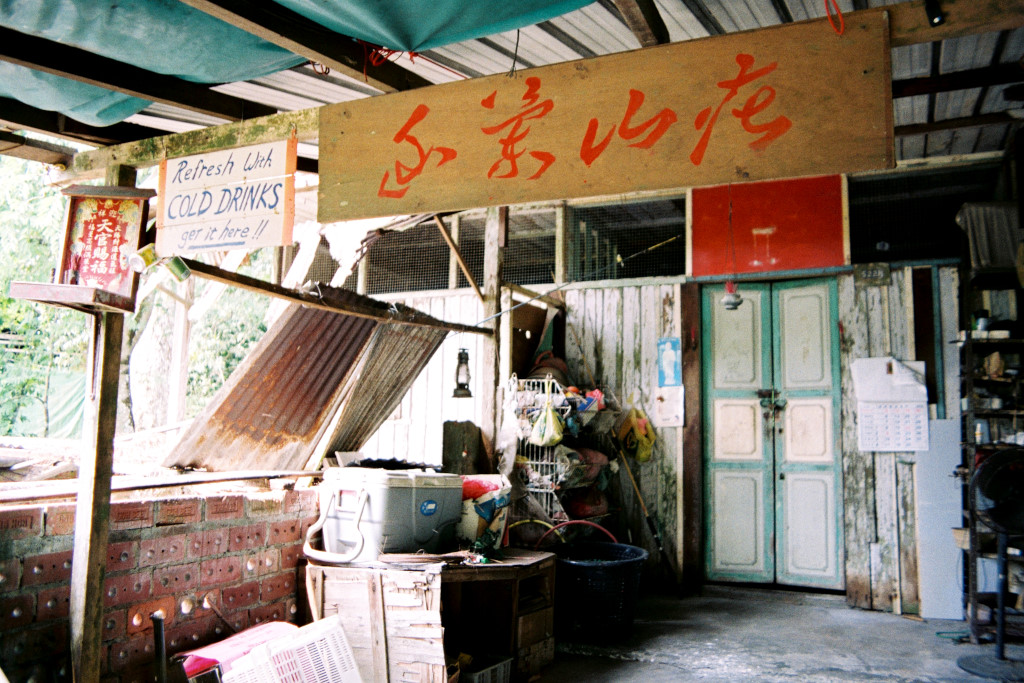 This image has had some digital post-processing.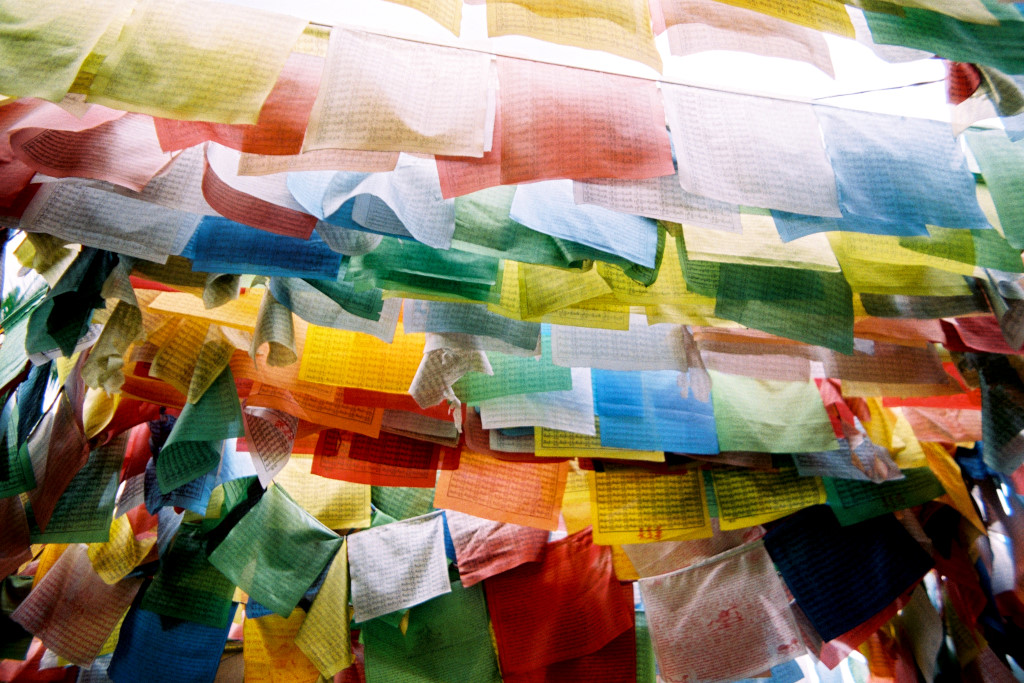 This image has had some digital post-processing.
This image has had some digital post-processing.
Walgreens 200
Boat Quay
Here's a couple of shots showing that Singapore isn't 100% glamorous!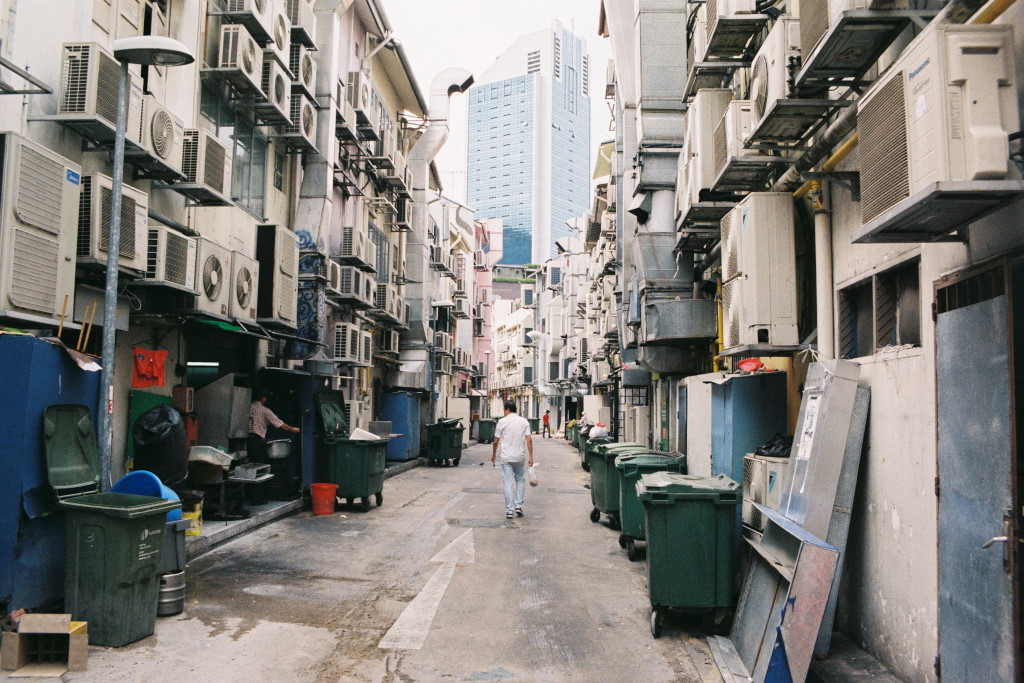 I tried to make it a little like Oasis' "What's the Story Morning Glory?" cover! On reflection, it's quite different!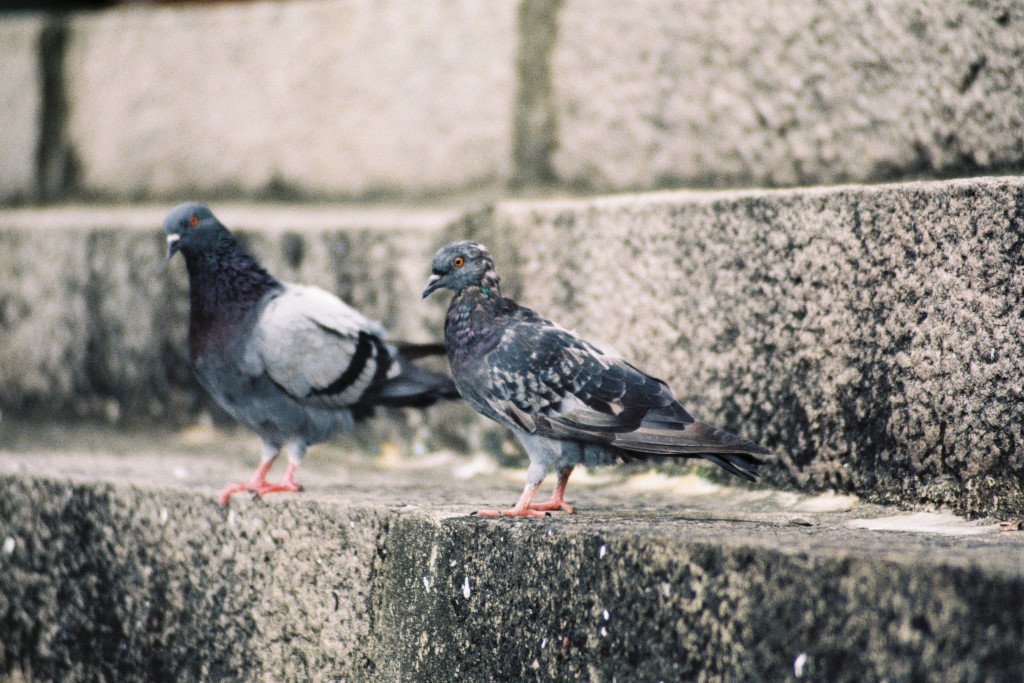 There's pigeons everywhere.
Cavenagh Bridge
This lovely Victorian Scottish suspension bridge, similar to those also still extant in Glasgow, is a lasting legacy of Singapore's time in the British Empire. Built by Clutha Ironworks and P&W Maclellan and opened in 1870, it commemorated Singapore's new status as part of the Straits Settlements Crown Colony. It was named in honour of Major General Orfeur Cavenagh, Governor of the Straits Settlements, who governed from 1859 to 1867.
These yellow bikes can be hired from and deposited at many locations across Singapore.
Outside the Asian Civilisations Museum
Built between 1864 and 1920, the Empress Place Building originally housed government offices during the colonial era.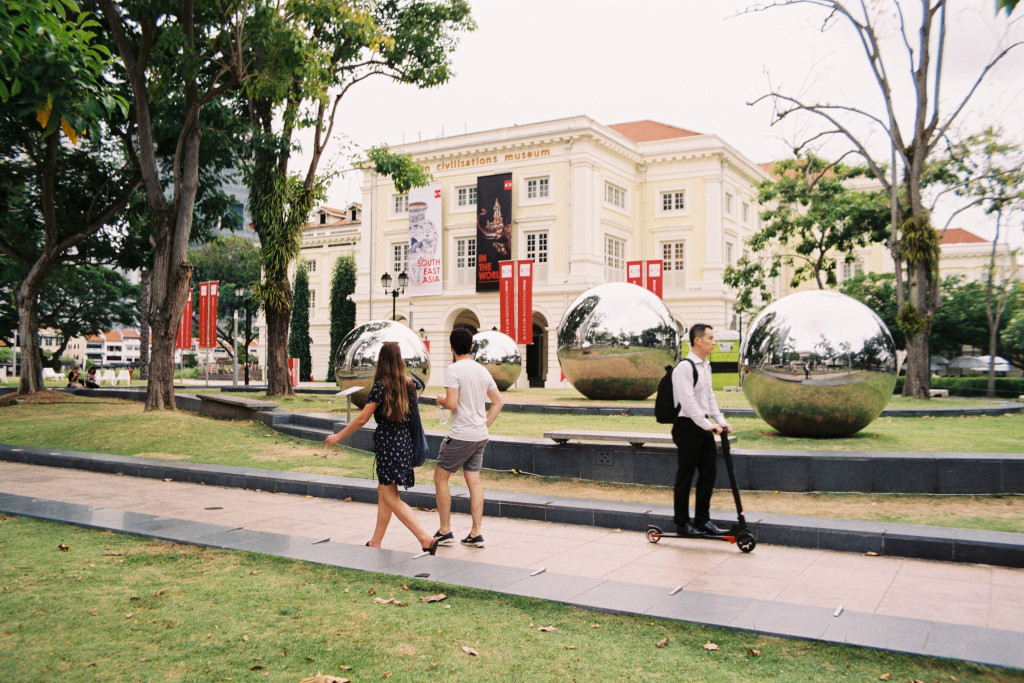 Fujifilm Superia Premium 400
I had great expectations for this film, that I had not seen before. Unfortunately, despite the high price tag (approximately £8 per roll), this film seemed to perform the worst out of the ones tested. I think I over-exposed somewhat, but on a cloudy day the film produced washed-out colours. In the sun, the film seemed particularly succeptable to my camera's occasional light leaks.
I have two more rolls that I hope to have more success with! I will not expose for quite so long in future!
The Merlion
The Merlion is the mascot of Singapore. It is a mythical creature with the body of a fish and a lion's head.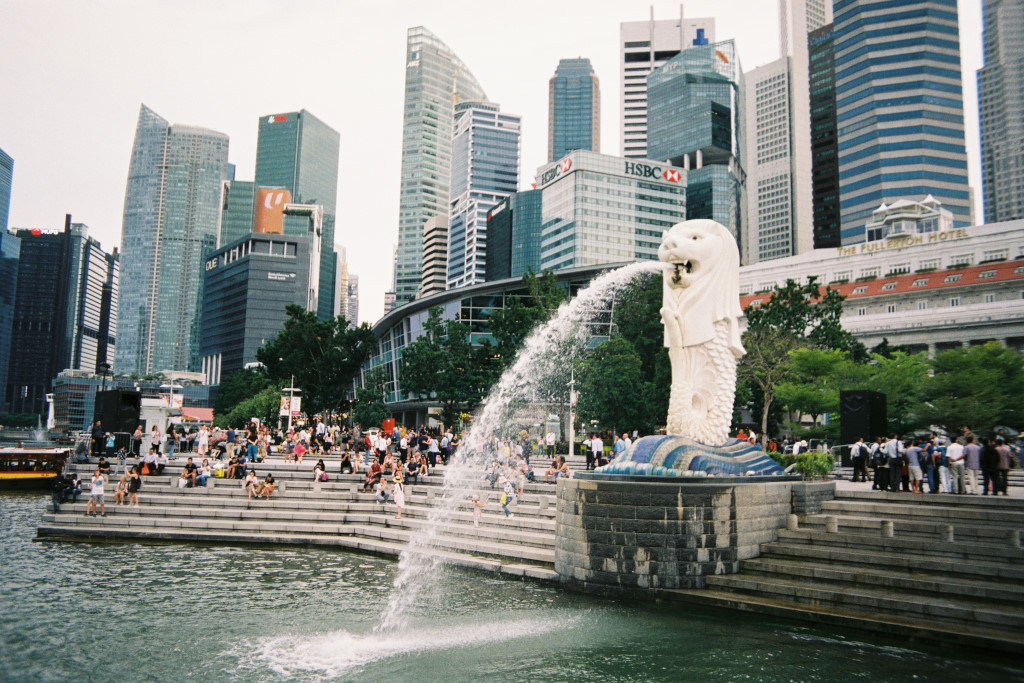 The Marina Bay Sands building
Opening in 2010, it was the world's most expensive casino at a value of SG $8 billion! It has over 2500 rooms, one of the world's largest casinos and an infinity pool on the roof!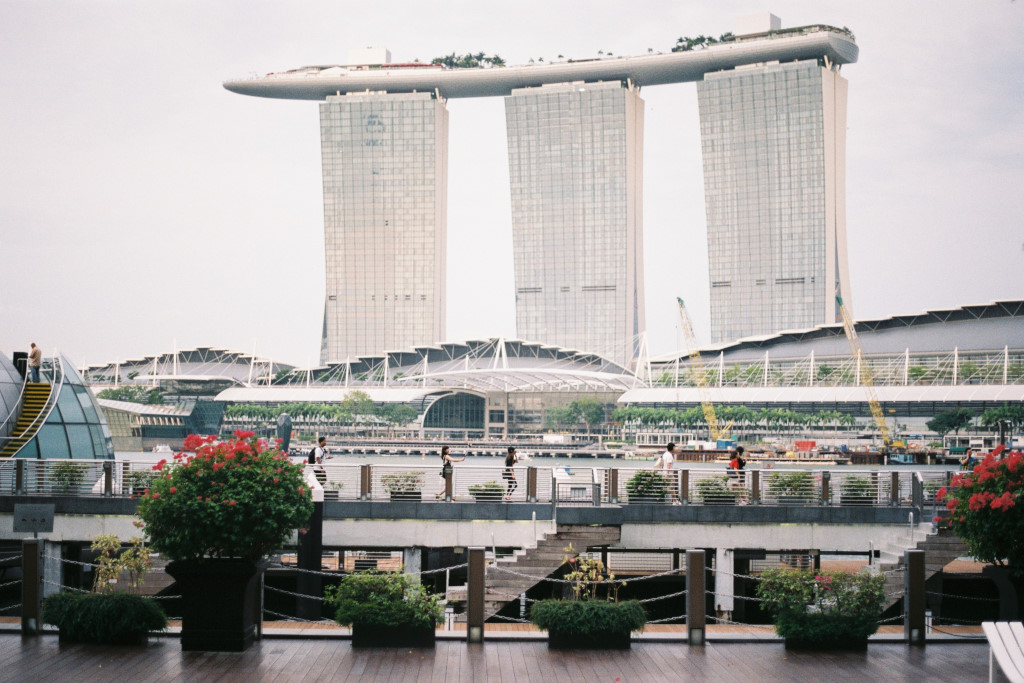 Downtown
This area comprises the main commercial area of Singapore, which began developing during the colonial era. It houses many large corporations and the Singapore Government.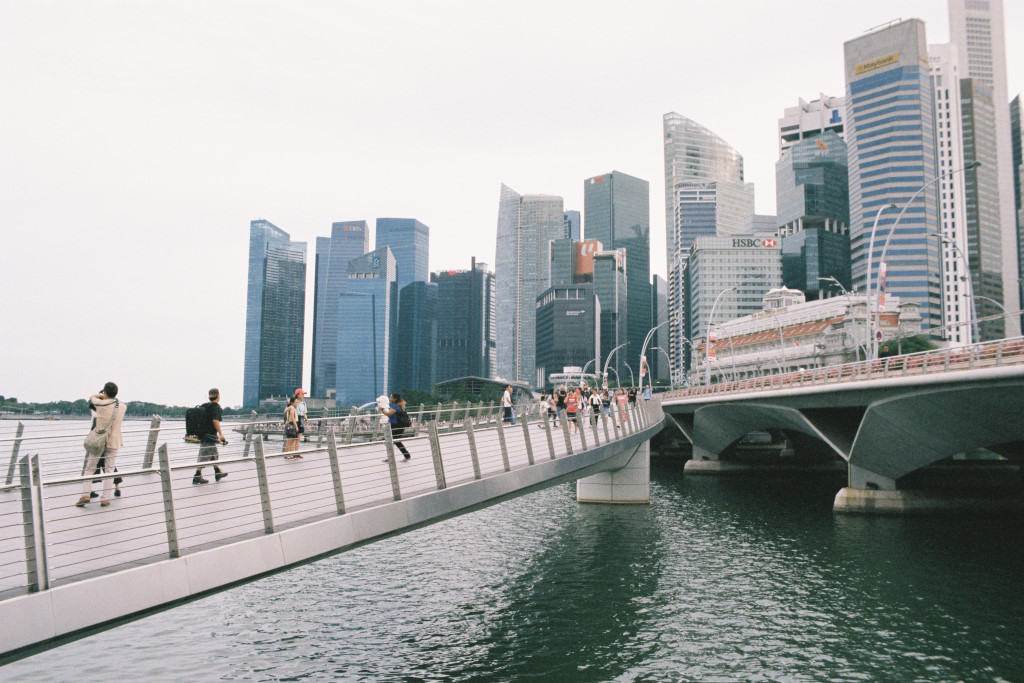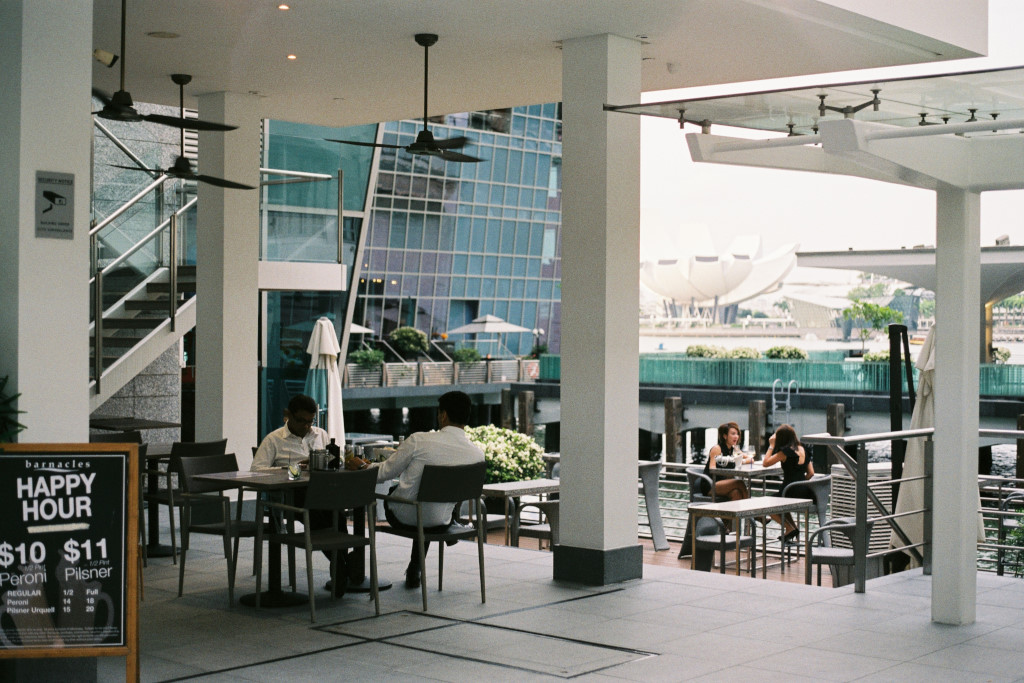 Around the city
Gardens by the Bay
This ultra-modern nature park lies on 250 acres of reclaimed land on the edge of Singapore's Downtown Core. It consists of two impressive greenhouses: the Flower Dome, which comprises plants from all around the world; and the Cloud Forest which replicate the conditions found in mountain regions over 1000m above sea level. There is also the Supertree Grove: where solar panels and water collectors for the site also function as manmade trees! In both the Cloud Forest and Supertree Grove there are impressive walkways.
Please note that most of the pictures are later on, taken on Fuji Venus 800 film.
Fujifilm Superia Venus 800
This high-speed film is an absolute gem! Though it was expensive, costing about SG $18, it was well worth buying as it performed well in Chinatown at dusk and at night. It allowed me to shoot film when normally I would have to go digital.
The colours are nice at night on this, and the grain doesn't seem to detract from the image. After all, if one wanted a perfect image, surely one would be better to go for a high-end DSLR nowadays?
It is not so good in the day, where the colours seem dull, but I don't think it is intended to be used then.
Around Chinatown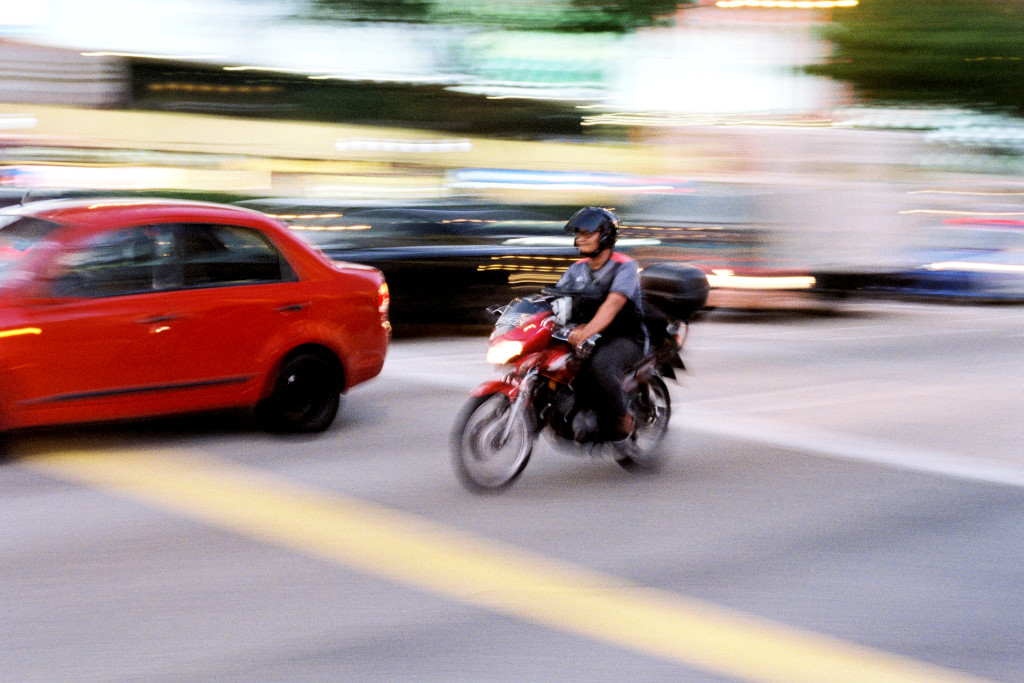 This image has had digital post-processing.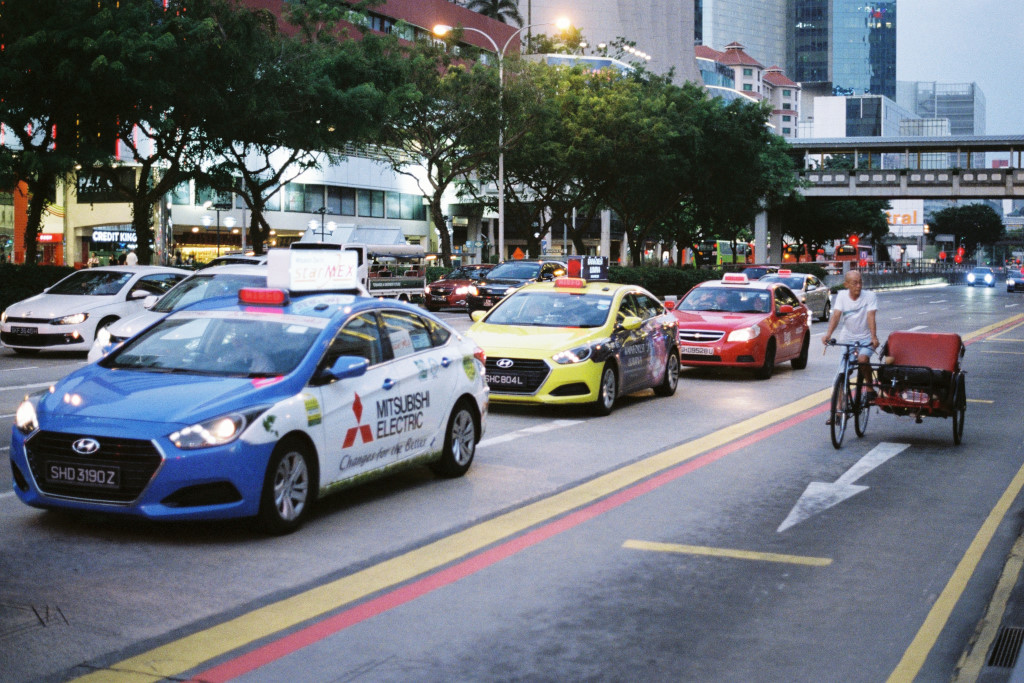 The colours on this are stunning!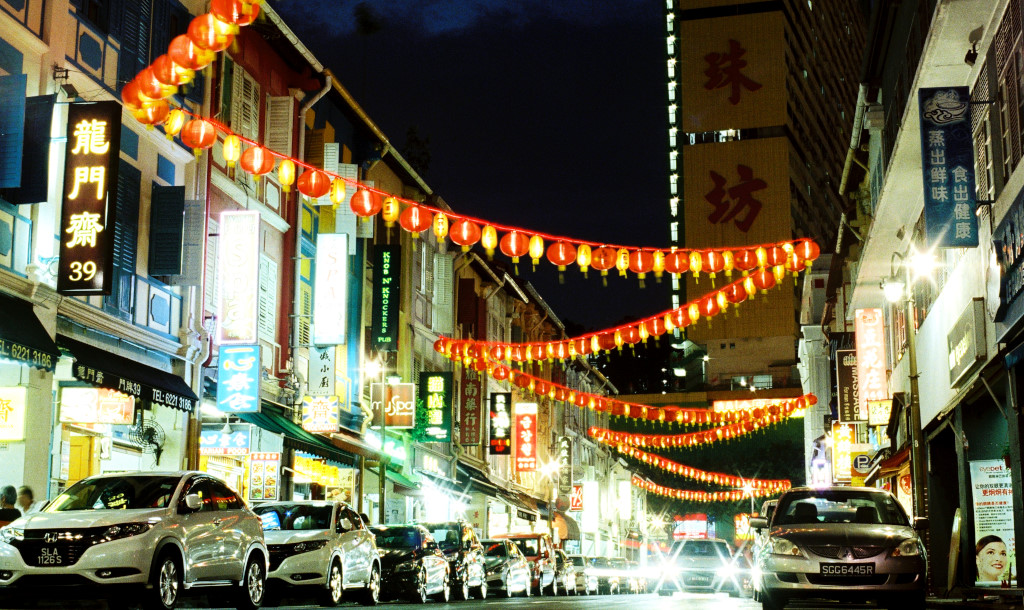 This image has had digital post-processing.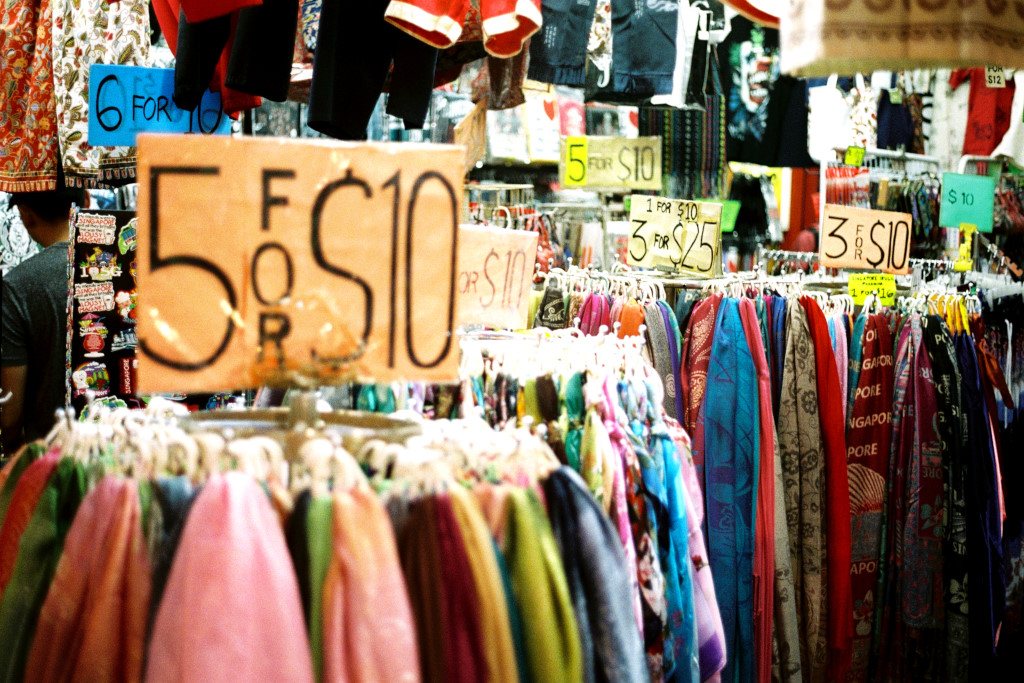 This image has had digital post-processing.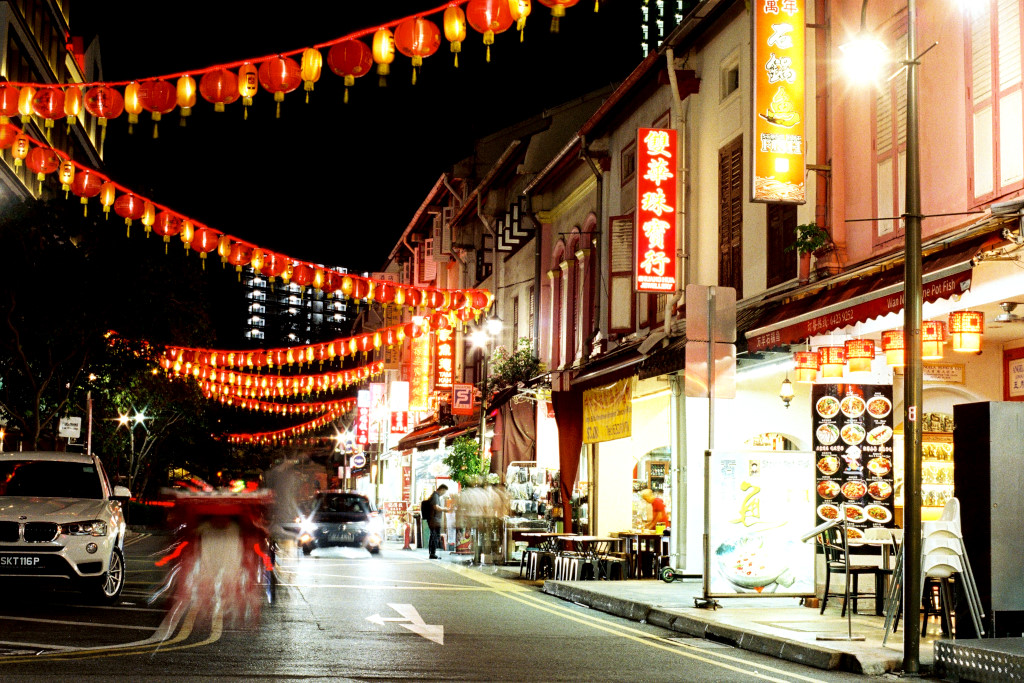 This image has had digital post-processing.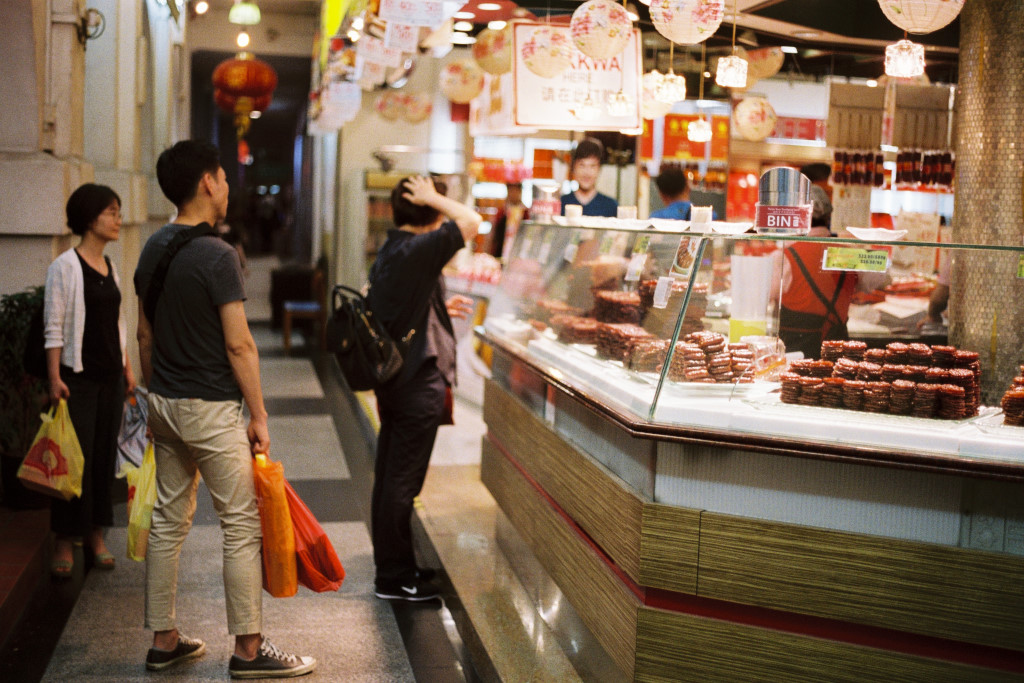 Chinatown Food Street
This image has had digital post-processing.
Gardens by the Bay
This provided an excellent opportunity to test the film in daylight!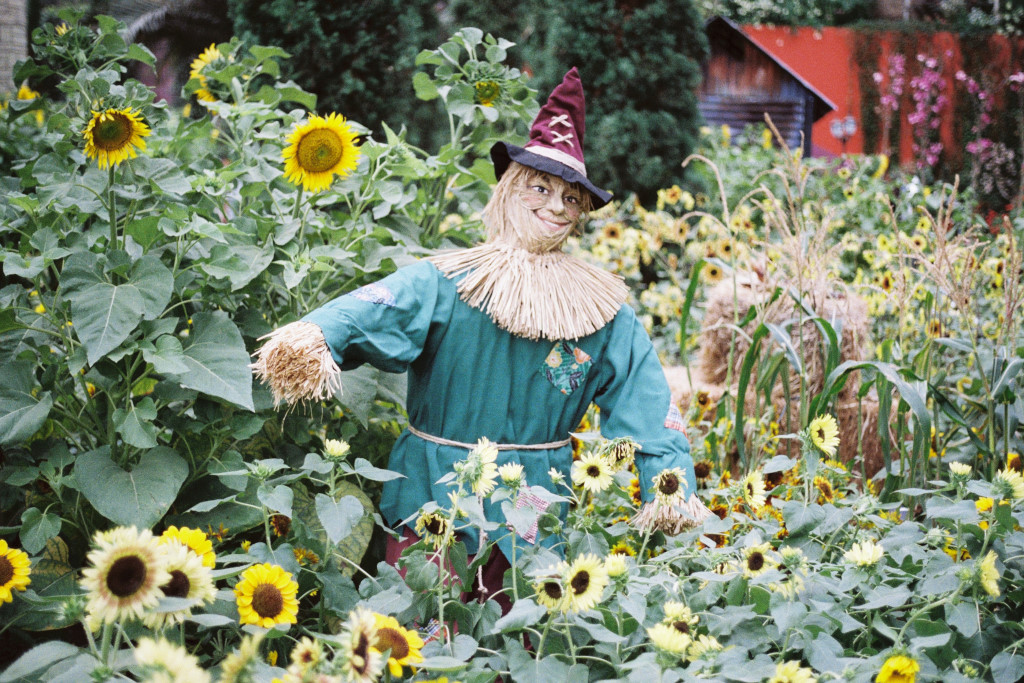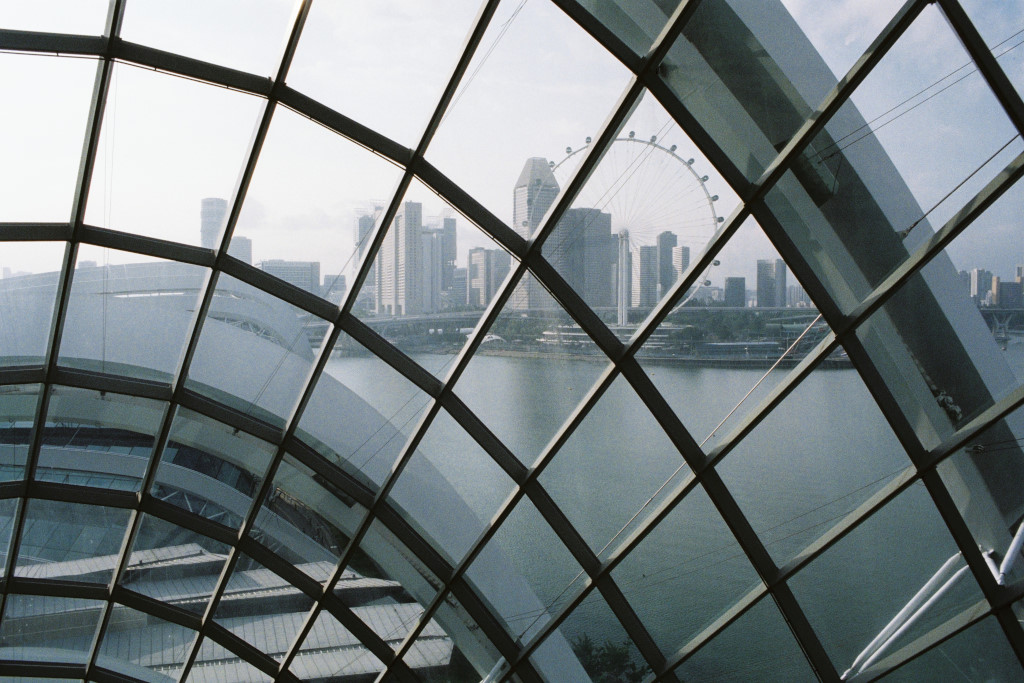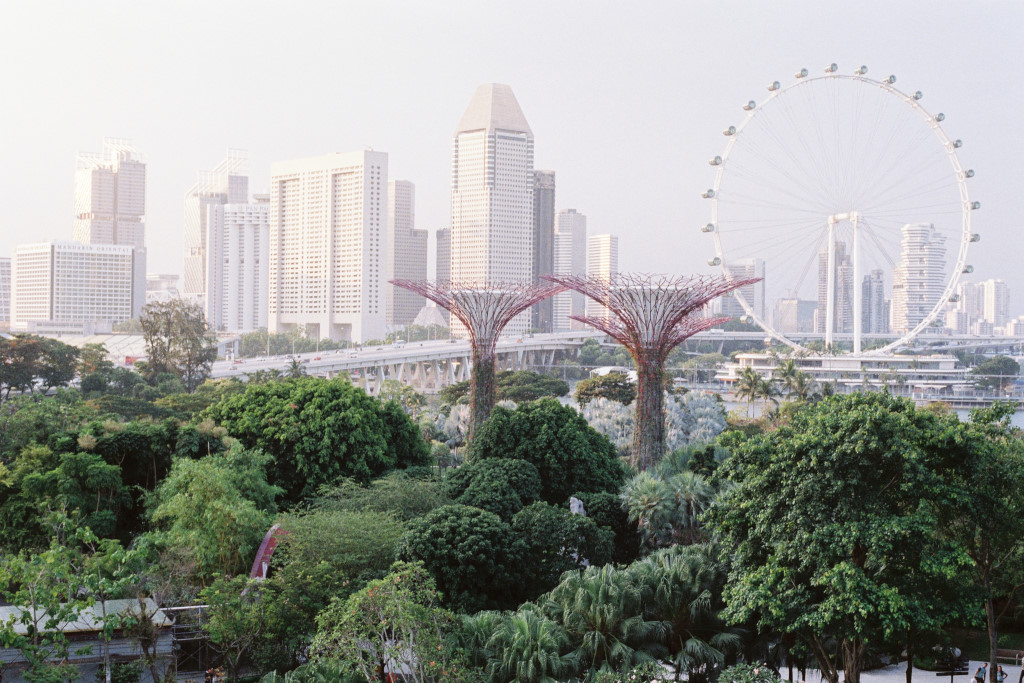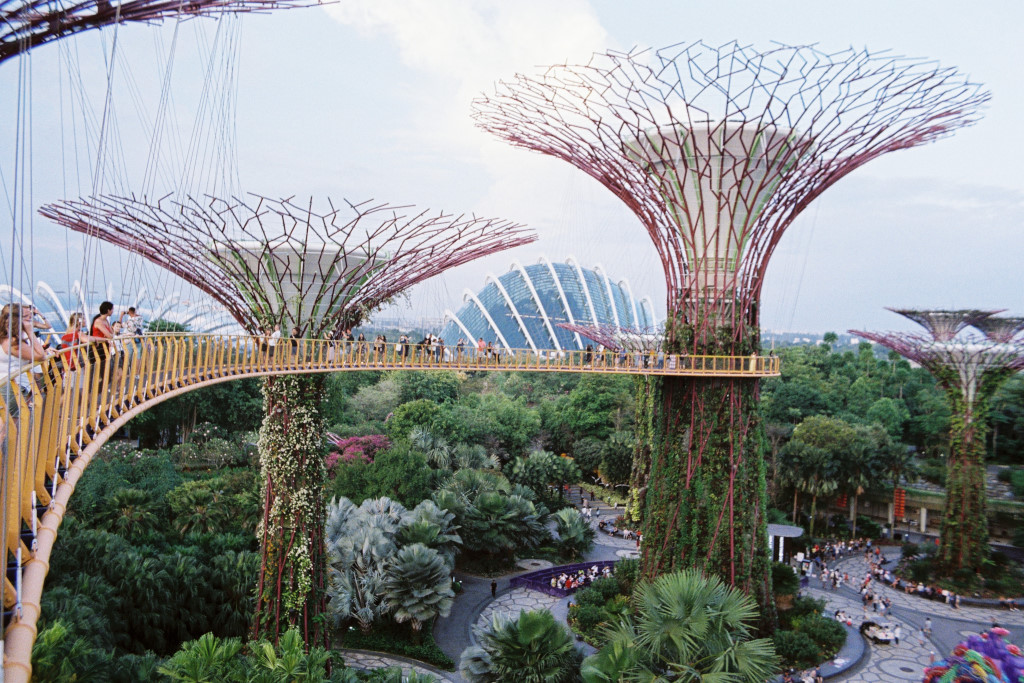 Copyright information and disclaimer
All images and text on this website are copyright 2018 wakey.com, all rights reserved.
Whilst efforts have been made to ensure the accuracy of this website, we do not take responsibility for any issues relating to errors / omissions.